April 8, 2014 - 3:30pm
Orma L. Welker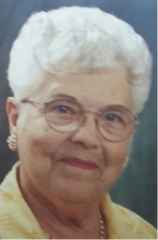 Orma L. Welker, 89, of Attica passed away Monday April 7, 2014 at Wyoming County Community Hospital in Warsaw NY.  Orma was born in Auburn, NY to the late Walter and Zelda (Thomas) Hutchings.  She was the wife of the late Gordon Welker, sister of Robert (Norma) Hutchings of Northfield Illinois and the mother of  Linda (James) Yoder of Batavia.
She is preceded in death by her sons Gary and Jeffery.  Orma had four grandchildren; Paul (Kelly) Welker, Kimberly (Jeff) Lynk, Melissa Yoder and Gregory (Lindsay) Yoder, and three great-grandchildren along with many nieces and nephews.
Calling hours will be held on Friday April 11, 2014 from 10:00AM - 11:30AM at Marley Funeral Home, LLC.  She will be laid to rest at Forest Hill Cemetery in Attica.
Memorials can be made to Attica Rescue Squad, 11 Water St., Attica NY 14011 or the Attica Historical Society, 130 Main St. Attica. For more information please call 591-1212 or to leave a message of condolence please visit www.marleyfuneralhome.com . Arrangements completed by Marley Funeral Home, LLC. 135 Main Street Attica, New York 14011