April 25, 2014 - 10:56am
GERTRUDE M. SCHAD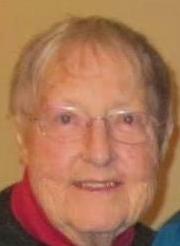 ELBA - Gertrude M. Schad, 88, of Elba passed away unexpectedly on Tuesday (April 22, 2014) at Strong Memorial Hospital in Rochester.
She was born Feb. 13, 2926 in Michigan, a daughter of the late Charles and Emma (Kelly) Schad.
Gertrude graduated from Alexander Central School and Nursing School. She was a registered nurse and anesthesiologist for more than 33 years, working at Rochester General, Highland Hospital and Willcare.
She was very active in Elba Ladies Auxiliary, loved to travel, bowl and gardening. She especially loved spending time with her grandchildren and great-granddaughter.
Ms. Schad was predeceased by three brothers, Charles, Paul and John Schad, one sister, June; a great-grandson, Michael C. Schad and her longtime friend, Charles Allen.
Survivors include a son, Michael (Karen) Schad of Elba; grandchildren, Michelle and Michael Schad of Elba; great-granddaughter, Haylee Breemes of Elba; two sisters, Catherine Schad of Albion and Patricia Wright of Batavia; niece, Rebecca (late Joseph) Valentine of Albion and several great nieces and great-great-nieces and nephews.
Her calling hours will be held from 4 to 8 p.m. Monday at H.E. Turner & Company Inc. Funeral Home, 403 East Main St., Batavia. Services will be held at 10 a.m. Tuesday at the funeral home. Burial will be in St. Vincent Cemetery.
Flowers are gratefully declined. Memorials may be made to the family or Elba Fire and Rescue or Elba Ladies Auxiliary, 4 South Main St., Elba, NY 14058.Please leave a condolence, share a story or light a candle at www.bataviafuneralhomes.com.