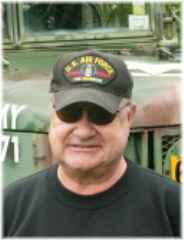 Gary A. Jurkowski age 69, of Perry passed away peacefully while surrounded by family, at Buffalo General Hospital on Saturday January 25, 2014. He was born on May 31, 1944 in Warsaw, New York to the late John Jurkowski and Helen Szymanski-Jurkowski.
Gary was working as a Patrolman with the Perry Police Department when he answered the call to serve his country and enlisted in the U.S. Air Force in 1966. He completed basic training at Lackland AFB in San Antonio, TX and then completed Advanced Individual Training in Biloxi, Mississippi. Gary became qualified as an Air Traffic Controller and Weather Observer at the Laredo AFB in Texas.
He was a 1962 graduate of Perry High School. Following his service to his country, he returned to Perry in 1970 and went to work for the Wyoming County Sheriff's Department as a Patrolman. A year later, he returned to his former job as a Patrolman with the Perry Police Department and worked his way through the ranks to become Sergeant. In 1977 he became the Police Chief. Gary enjoyed working closely with children in the village and instituted the "Officer Bill" program at Perry Central Schools, before the more current D.A.R.E program was established. He was involved with the Bicycle Rodeo in the interest of bicycle safety offering locally sponsored savings bonds and trophies in the 1970's. During his career in law enforcement, he also worked part-time for the Wyoming County Sheriff's Department for 13 years as Marine Lake Patrol on Silver Lake. He continued to work as the Police Chief of Perry until his retirement in 2000. Gary continued his career in law enforcement and became the municipal court Justice for the Village of Perry until retiring in 2012. 
He was a member of the St. Isidore's Catholic Parish (St. Joseph's Church) in Perry, the Constellation Lodge #404 of the Free and Accepted Masons in Perry. A member of the Magistrates Association, Knights of Columbus Council 10983, Perry Firemen Benevolent Organization, lifetime member of the New York Chiefs of Police Organization. Gary was also a member of the McKelton Post #350 American Legion and the Vietnam Veterans Chapter 193 and past member of the Perry Ambulance Corps. He belonged to the Patriot Guard Association honoring the transporting of the deceased Veteran's ashes to Bath, NY. Gary was recognized in 2012 for 15 years of service, as the National Oceanic and Atmospheric Administration Observer where he compiled statistics for the National Weather Service based in Buffalo and hometown papers and news stations in Rochester. Among other activities, he drove a tractor trailer with Diagnostic Cat Scanners and MRI equipment to various hospitals and drove freight runs to Ohio for Kaustine Furnace and Tank. He also enjoyed driving truck for local farms. Gary enjoyed railroading and loved showing his Army 2 ½ ton truck at various local events and parades. He was known for his compassion, respected for his wisdom and insight and a mentor to many.
He is survived by two daughters; Tamara (James) Quilty of Dallas, TX, Kathy Narowski of Pavilion; 2 brothers;  John (Ginni) Jurkowski of Rochester, Edward (John Harris) Jurkowski of Perry, sister Marie (Jack) Beachel of Castile, 3 grandchildren; Konner Narowski, Lexi and Avery Quilty along with many nieces, nephews and long-time friend, Judy Bryant. The family would like to extend much gratitude to Carolyn Grieve for her loving care during his illness.
Gary's memory will be honored with calling hours on Friday, June 20, 2014 from 2-4 PM and 6-8 PM and a memorial service on Saturday, June 21, 2014 at 10:00 AM at the Eaton Watson Funeral Home in Perry.
Burial immediately following will be in St. Stanislaus Kostka Cemetery in Perry.
In lieu of flowers, his family requests memorials in Gary's name be made to the American Juvenile Diabetes Association or the charity of your choice. To leave a message of condolence  please visit  www.eatonwatsonfuneralhome.com or for more information call (585) 237-2626. Arrangements completed by Eaton-Watson Funeral Home, LLC. 98 North Main Street Perry, New York 14530.