July 20, 2014 - 8:55pm
Frances "Louise" Wright
posted by
LaVern Falcone
.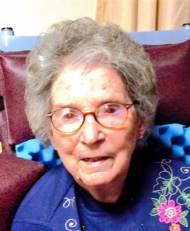 Pavilion ~ Frances Louise Wright, age 89, formerly of W. Park Street, passed away Sunday morning (July 20, 2014) at the Genesee County Nursing Home.
     Mrs. Wright was born October 3, 1924 in Columbia, TN, a daughter of the late Irvine and Virginia Clark Scribner.
     She will be remembered as a very caring and compassionate person, who was totally devoted to her family.  She was a charter member of the Pavilion Firemen's Auxiliary and "Woman of the Year", a girl scout leader during the 1960's and a member of the Pavilion Senior Citizen's organization, "Young at heart".
      Mrs. Wright is survived by her loving husband of 69 years, Henry "Hank" Wright, her sons, Douglas (Kathy) Wright of Pavilion and David Wright of Pavilion, her daughters, Ginger Sackel (Marjorie Wilkison) of Flatrock, NC and Phyllis (Dr. Mark) Hagen of Westfield, 8 grandchildren, 10 great-grandchildren, along with many nieces and nephews.  She was predeceased by 9 siblings and her brother in law, Donald Wright Sr.
     Family and friends may call on Tuesday from 4 ~ 8 PM at the Falcone Family Funeral & Cremation Service Inc., 8700 Lake Road (Rt. 19), LeRoy.  A Memorial Service will be held at a later date to be announced at the Pavilion United Methodist Church.  Interment will be private in the Pavilion Cemetery.  Memorials may be made to the Pavilion United Methodist Church.
     Your memories and condolences may be offered to Mrs. Wright's family at www.falconefuneralhome.com.
Mrs. Wright and her family are being cared for by the Falcone Family Funeral & Cremation Service Inc.     585-768-2400