July 29, 2014 - 7:49am
Marian E. Airth
posted by
LaVern Falcone
.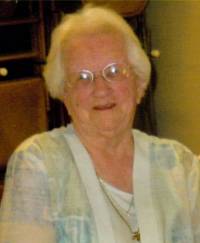 Bergen ~ Marian E. Airth, age 93, of N. Lake Road, passed away early Sunday morning (July 27, 2014) at Rochester General Hospital.
     She was born March 8, 1921 in Bergen, N.Y., a daughter of the late Frank and Bessie Seward Long.
     Mrs. Airth will be remembered as a very quiet and gentle person, who enjoyed going out to lunch and dinner, and especially going on picnics with her grandchildren.  She liked her afternoon soap opera, putting puzzles together and doing her crossword puzzles.  She had a fondness for nature and loved her flowers and watching her hummingbirds.  She also loved her church, Stone Church Presbyterian Church, where she was a lifetime member.
     She is survived by her children, Shirley Hasenauer of Churchville, Harley (Terri) Airth Jr. of Cleveland, NY and Helen Airth of Albion; a sister in law, Elizabeth Long of Bergen, 4 grandchildren, 9 great-grandchildren and a great-great-grandson.  She was predeceased by her husband, Harley Airth Sr, her brother, Robert Long and her grandson, Michael Hasenauer.
     Family and friends are invited to attend her Celebration of Life Memorial Service on Saturday, Aug. 2 at 10:00 A.M. at the Stone Church Presbyterian Church. 
     The courtesy of no flowers is requested with memorials suggested to Stone Church Presbyterian Church, P.O. Box 128, Bergen, N.Y. 14416.
     Your memories and condolences may be shared with Mrs. Airth's family at www.falconefuneralhome.com.
     Mrs. Airth and her family are being cared for by the Falcone Family Funeral & Cremation Service Inc. in LeRoy.  585-768-2400