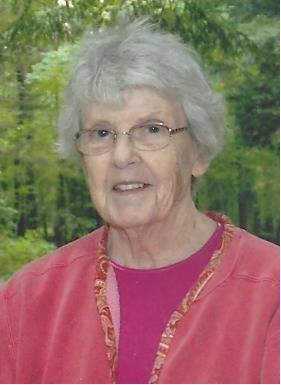 Ann Embury Gouinlock, 80 of Alexander, passed away peacefully on Wednesday (October 29, 2014) at United Memorial Medical Center.
She was born in Warsaw, NY on February 24, 1934, a daughter of the late Philip and Jane Romeyn Embury.
Ann was a locally renowned master quilter and expert crafts person.  She was a founding member of the Museum Quilt Guild in Batavia and the Clarence Log Cabin Quilters.  She was also a former member of the Attica Presbyterian Church.
Survivors include her husband, Harold S. Gouinlock of Alexander. Sons, Dr. Robert (Rebecca) Gouinlock of Attica and Richard H. Gouinlock of Boston, MA.  Grandchildren, Elizabeth and William Gouinlock. Brother, Philip Embury of Fairport.
Family and friends are cordially invited to share memories, condolences and thoughts on Saturday (November 1st) from 5-8pm at the J.LEONARD MCANDREW FUNERAL HOME, LLC, 2 Bogue Ave., Batavia.  A funeral service will commence at the conclusion of visitation at 8pm. 
Memorial contributions may be made in Ann's memory to the Holland Land Office, 131 W. Main St., Batavia, NY 14020.
Expressions of condolence may be shared with the family at: www.mcandrewfuneralhomes.net. 
ARRANGEMENTS WERE ENTRUSTED TO THE J. LEONARD MCANDRW FUNERAL HOME, LLC, 2 BOGUE AVE., BATAVIA, NY 14020. RONALD KONIECZNY II, DIRECTOR & PROPRIETOR.