December 23, 2014 - 2:43pm
Angelo J. Branciforte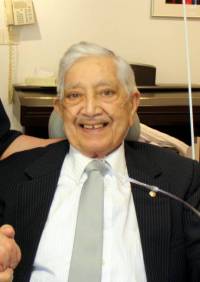 Angelo J. Branciforte, 92, of Batavia passed away Tuesday December 23, 2014 at United Memorial Medical Center. He was born on August 8, 1922 in Mt. Morris to the late Michael and Rose (Gioia) Branciforte. He is preceded in death by his first wife Jane (Seymour) Branciforte; son Michael Branciforte; brothers Joseph, John and Michael Branciforte; sisters Josephine Rudgers, Theresa Barrows, Mary Gray, and Rose McMasters.
Angelo attended Suny Geneseo and Buffalo State. He earned both his Bachelors and Masters Degree. Mr. B. taught in Niagara Falls, the East School and Brooklyn School in Batavia and was the Principal at John Kennedy Elementary School from which he retired in 1990. He established and managed the Batavia school transportation system for 25 years. Mr. Branciforte also taught English and Citizenship for 25 years, helping to prepare immigrants for US Citizenship. He was a charter member of the Homemaker Service and the First Mental Health Association. Mr. Branciforte served as President and held many positions in the Batavia Teachers Association as well as the Genesee County Elementary Principals Association. During his free time he also served in the Paolo Busti Association and in the New York State Mental Health Association. Mr. Branciforte was an active Rotarian for 42 years and received the Paul Harris Award. With his children and grandchildren, he enjoyed his summers at Silver Lake, fishing, boating, and swimming. Mr. Branciforte also served in the U.S. Army during WWII in Europe in the 3rd and 7th Armies and ended his Army career as a Sergeant in the 271st Combat Engineers in Austria. He volunteered for many organizations and advises that everyone should volunteer and give back to the community.
He is survived by his wife, Loretta (Cappelli) Branciforte of Batavia; sons Thomas (Sharon) Branciforte of  Clarkston, MI, John Branciforte of LeRoy, James (Theresa) Branciforte of LeRoy, Joel (Janet) Branciforte of Byron; daughter Elizabeth (Gerald) Seeley of East Greenbush; sister-in-law Mildred Branciforte; brother-in-law Robert Barrows; 14 grandchildren, 17 great grandchildren along with many nieces and nephews.
Friends may call on Monday December 29, 2014 from 3-5 PM and 7-9 PM at the Gilmartin Funeral Home & Cremation Company, Inc., 329-333 W. Main St., Batavia NY.  A 9:30 AM Mass of Christian Burial will be held on Tuesday December 30, 2014 at Resurrection Parish 18 Ellicott Street Batavia, New York 14020.
In lieu of flowers memorials may be made to the Angelo J. Branciforte Scholarship 260 State Street Batavia, New York 14020 or the New York States Veterans Home at Batavia Activities Fund 220 Richmond Avenue Batavia, New York 14020. To leave a message of condolence please visit www.gilmartinfuneralhome.com or for more information call (585) 343-8260. Arrangements completed by Gilmartin Funeral Home & Cremation Company, Inc. 329-333 West Main Street Batavia, New York 14020