December 27, 2014 - 8:12pm
Samuel J. Caito
posted by
LaVern Falcone
.
Batavia ~ Samuel J. Caito, age 89, died Saturday (Dec. 27, 2014) at Rochester General Hospital.
     Mr. Caito was born December 26, 1925 in Buffalo, N.Y., a son of the late Augustino A. Caito and Anna Sansone.
     He is survived by his wife of 62 years, the former Rosemary Watkins; six children; Paul J.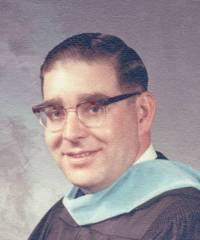 Caito of Rochester, Mary Eileen Caito of Amherst, Karen M. Stevens of Corning, Patrice M. Caito of Rochester, Michael D. (Donna) Caito of Rochester and Catherine M. Caito of Batavia; grandfather of  Alyson Caito, Andrew Caito, Patrick Caito Stevens, Haley Caito and Megan Caito Stevens; brother-in-law of Joan (Frank) Gerace of Somerset, NJ, Henry L. Zugger of Tonawanda, Sr. Patricia Watkins, GNSH of Yardley, PA and Paul (Joan) Watkins of Amherst.  Also survived by many nieces and nephews.
     Mr. Caito was a 1943 graduate of Batavia High School and a 1950 graduate of Canisius College.  He was a longtime businessman in the Batavia area as the owner of Caito's Liquor Store, which was begun by  his father at the end of Prohibition in 1933.  He retired from the liquor store in 1985.  He was also a Science teacher beginning at Notre Dame High School from 1960 - 1968 and then at Batavia Middle School from 1968 until he retired in 1986.  Between 1962-1966, he returned to Canisius college and earned an MS Ed. degree in Chemistry, Physics, Biology and Math.
     He was a life-long member of St. Mary's Church, Msgr. Kirby Council Third Degree Knights of Columbus, Batavia Rotary Club and the American Chemical Society.
     The family would like to extend their sincere thanks to the staff at the Village Green Nursing Home in LeRoy for the loving care they extended to him over the past year and to the staff at the second floor ICU and the fourth floor medical staff at Rochester General Hospital for their compassionate care of the past two weeks.
     Family and friends are invited to his Mass of Christian Burial on Tuesday, Dec. 30 at 12:00 PM at Resurrection Parish, St. Mary's Church Site, 18 Ellicott St., Batavia.  Entombment will follow in St. Joseph's Cemetery. 
     In lieu of flowers, memorial contributions may be made to either St. Mary's Church or Notre Dame High School.
     Your memories and condolences may be shared with Mr. Caito's family at www.falconefuneralhome.com.
     Mr. Caito and his family are being cared for by the Falcone Family Funeral & Cremation Service Inc. in LeRoy.  585-768-2400