December 31, 2014 - 3:35pm
Mary Helen Kilpatrick
posted by
LaVern Falcone
.
Mary Helen Kilpatrick, 82, of the Town of Pavilion, NY passed away at her home, on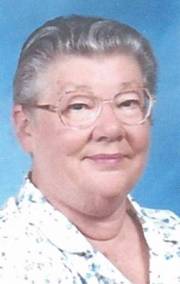 December 30, 2014 from Progressive multifocal leukoencephalopathy (PML), resulting from a severe immune deficiency, arising from various treatments she had undergone.
     Since 2003, Mary Helen fought courageous battles with three different forms of cancer, each in turn ending in remission.  In 2009 a fall severely damaged her left ankle, which could not be repaired through surgery, thus resulting in her being wheelchair bound.
     Mary Helen Kilpatrick was born April 19, 1932 at Sayre, PA, the daughter of the late Homer B. Rutherford and Mary T. (Stiles) Rutherford.
     She graduated from Amherst High School, Amherst, NY in 1950 and from the State University of New York at Fredonia in 1954 with a BS Degree in Music Education.  Mary Helen taught vocal music first at Cassadaga Valley Central School, Sinclairville, NY, then at Lancaster Central School, Lancaster, NY and later at Royalton-Hartland Central School, Middleport, NY.
     While at Royalton-Hartland, Mary Helen assisted in the school musical productions, first in staging, then in leading the pit orchestra.  She also did the same for several Middleport Rotary Musicals and the Lake Plains Players.  Mary Helen was a founding member of the Middleport Community Choir.
     She was very active in the former St. Stephen's Catholic Church while living in Middleport, NY.  Serving as choir director and helped in the development of several parish ministries.  For 36 years she played French horn in the Amherst (NY) Symphony Orchestra.
     On April 28, 2002, Mary Helen was among some 40 others who were honored with the "Lay Award of St. Joseph the Worker" by Bishop Henry J. Mansell at the Diocesan Cathedral in Buffalo, NY for their outstanding and dedicated service to the Church over many years.
     In 2002, Mary Helen and her Husband, Bob, built a retirement home in the LeRoy-Pavilion (NY) area.  Here as a member of St. Peter's Catholic Church, LeRoy, NY she sang in the choir and again developed two parish ministries.
     Mary Helen had a special interest in gardening, growing roses and various spring and summer flowers.  She maintained a year around bird feeder to attract various birds in season and was very knowledgeable of the many types that visited.  She was an active participant in the Covington Daylighters, a craft group, until her recent illness.
     She is survived by her husband of 59 years, Robert T., four children; Kathryn Anne (Laurence) Symenow of Winchester, VA, Geoffrey Robert (Catherine) Lewis of Reston, VA, Dion Andrew (Lisa) Lewis of Amherst, NH.  These three were raised by the Kilpatrick's (Uncle & Aunt) upon the sudden death of their parents, Gordon and Mary Elizabeth (Kilpatrick) Lewis in an automobile accident, and Margaret Mary (Douglas) Thater of LeRoy, NY.  Also surviving are eleven grandchildren and ten great grandchildren.  Also surviving is a sister, Janet Fuller and a niece, Katherine R. Fuller, both of Maryland, and another sister, Margaret Traynor Rutherford of Greene, NY.
     A Mass of Christian Burial will be held on Saturday, Jan. 3 at 11:00 AM at Our Lady of Mercy Parish, St. Peter's Site, 44 Lake Street, LeRoy, NY.  Interment will be in St. Francis Cemetery, LeRoy.  In lieu of flowers, memorials may be made in the form of mass cards.
     Your memories and condolences may be shared with Mrs. Kilpatrick's family at www.falconefuneralhome.com.
     Mrs. Kilpatrick and her family are being cared for by the Falcone Family Funeral & Cremation Service Inc.  585-768-2400