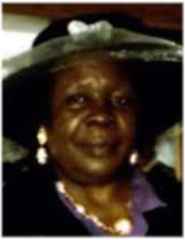 On January 17, 2015, after 82 years of a full, beautiful and happy life, Bernice Cole went home to be with God, with her husband of 59 years of marriage Theodore Cole by her bedside at her home peacefully.
She is survived by her brother Ulysses Jones (Annie Ruth) along with her two sisters Loretta Clark and Dorothy Billington. Her six of seven remaining children Elliouse (Victor) Evens, Michael (Betsey) Cole, Greg Cole (pre-deceased), Helen Allen, Curtis (Connie) Cole, Timothy and Jeffrey (Elizabeth) Cole.  She is also survived and loved by her 17 grandchildren and 7 great-grandchildren.
A beautiful women with an amazing legacy left behind her of love, family, God and tradition. With heavy hearts her family and close friends will come together at Mt. Zion Missionary Baptist Church 516 Ellicott Street Batavia, New York 14020 where she was a member to celebrate her life, her wisdom, her humor, her love and her everlasting belief and faith in God. Calling hours will be Wednesday January 21, 2015 between 10-11 AM with services to immediately follow.
In lieu of flowers memorials may be made to the family. To leave a message of condolence please visit www.gilmartinfuneralhome.com or for more information call (585) 343-8260. Arrangements completed by Gilmartin Funeral Home & Cremation Company, Inc. 329-333 West Main Street Batavia, New York 14020