January 29, 2015 - 6:51pm
Alan Gordon Taylor
posted by
Howard B. Owens
.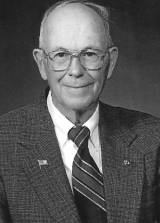 AIKEN, SC – ALAN GORDON TAYLOR, 90, husband of the late Val Smoter Taylor, died Thursday, January 22, 2015 at Charlie Norwood VA Medical Center, Augusta, GA.
A native of Hudson, MA, Alan was a son of the late Alan Frederick and Annie Lavinia Croad Taylor. He worked in a defense factory after finishing high school until he was old enough to enlist in the Army Air Corps. He served as a radioman during World War II and taught code. He was also stationed in the Fiji Islands where he was a swimming instructor. Following the war he worked as a police officer in Hudson, MA. Alan later moved to Batavia, NY where he went to work with GTE Sylvania, retiring after 30 years as a quality control engineer. He lived in Batavia for 50 years and was a 4-H leader for 25 years. An accomplished musician, Alan played trumpet in several bands as well as leading his own band, "The Variety Kings".  He was a certified instructor for the National Rifle Association and was a HAM Radio operator. Mr. Taylor lived in Tennessee for 7 years before moving to Aiken SC a year and a half ago. He was a member of Holy Name of Mary Catholic Church in East Pembroke, NY, the American Legion, VFW in Batavia, and the Pembroke Community Band.
Survivors include two daughters, Carol Austin, New Orleans, LA, Kathryn Tucker (Don), Aiken, SC; two sons, Alan Taylor (Lin), Corfu, NY, Jeff Taylor (Vicki), Watertown, TN; nine grandchildren and eight great-grandchildren; one great-great grandchild.
Services will be private at the convenience of the family.  Memorials in his memory may be sent to
     "Pembroke Community Band"
c/o Beverly Neeland
       941 Sumner Rd.
       Darien Center, NY 14040
                        OR
"Joint Veterans Honor Guard of Genesee County"
c/o American Legion Post 332
      8960 Alexander Rd.
      Batavia, NY 14020