March 31, 2015 - 3:13pm
Louise R. Rees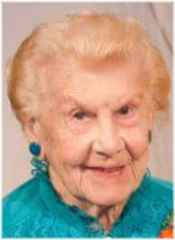 Louise R. Rees, 93, of Batavia passed away peacefully on Palm Sunday, March 29, 32015 in the comfort of her home with family by her side. Born November 22, 1921 in Rome, New York, Louise was the daughter of the late Clarence D. and Ruth Plato Wales. On August 26, 1944 she married Arland B. Rees, who predeceased her in death in January of 2013. She is also preceded in death by her father-in-law David A. Rees; Mothers-in law Mabel Rees and Shirley Rees; brothers Howard C., Leonard C. and Louis C. Wales and grandson Joshua David.
Louise graduated in 1940 from West Moreland Central High School; Rome, New York. She held 3 different positions at Houghton College; Secretary to the Dean of the college, Secretary of the Public Relations Office and Secretary to the Church of Relations Director. She was also Church Secretary at St. John's Lutheran Church in Williamsville, Woolworth Memorial Methodist Church in Great Bend, Clyde Methodist Church in Clyde and East Bethany Presbyterian Church in East Bethany. She retired in 1998. Louise attended First Wesleyan Church and Northgate Free Methodist Church Both in Batavia. Louise was a very beloved person and Christian Example. She loved her family deeply and took much joy in helping others! Her smile was radiant and touched your heart.
Louise is survived by her children John A. (Kim) Rees of Batavia; Carol L. (Paul) Ensell of Belmont; 4 grandchildren David G. Rees of Batavia, Kelli (Jamie) McClurg of Warsaw, Tomas J. Ensell of Belmont, Cara M. Ensell of Elmira.
An 11:00 AM Celebration of Life will be held on Monday April 6, 2015 at Gilmartin Funeral Home & Cremation Company, Inc. 329-333 West Main Street Batavia, New York 14020. She will be laid to rest in Mt. Pleasant Cemetery Houghton, New York
In lieu of flowers memorials may be made to Northgate Free Methodist Caring Outreach Program 8160 Bank Street Road Batavia, New York 14020. To leave a message of condolence please visit www.gilmartinfuneralhome.com or for more information call (585) 343-8260. Arrangements completed by Gilmartin Funeral Home & Cremation Company, Inc. 329-333 West Main Street Batavia, New York 14020.