September 5, 2018 - 3:26pm
MICHAEL A. TENEBRUSO
posted by
Michael Tomaszewski
.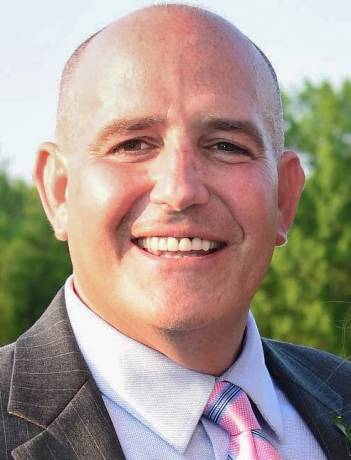 MICHAEL A. TENEBRUSO, area educator, age 50, of N. Chili, died peacefully surrounded by family on Friday afternoon, August 31, 2018 at Rochester General Hospital. Michael was born in Batavia, on March 11, 1968, the son of Anthony and Marcia A. (Bentley) Tenebruso of Batavia. He is the grandson of the late Maria Michaela Tenebruso and Laverne & Esther Bentley.  
Michael grew up in Batavia to a faith filled family as a member of the former St. Anthony's Church where he was an altar server and former president of the St. Michael's Society.  He graduated from Batavia High School in 1986 and later received his Bachelors and Masters Degrees in Elementary Education and Educational Administration respectively from SUNY Brockport.  While there, he served as a founding member of the Greek Chapter of Sigma Alpha Mu.  
"Mr. T", as he was known, was later recognized as "Teacher of the Year" at Elba Central Schools.  His career continued as a well-respected elementary school administrator throughout Western NY. He served as an assistant principal at Attica Central Schools.  Later he became principal at Sheldon Elementary and Hillery Park Elementary schools in Buffalo, NY and received special recognition as the principal of Canal View Elementary School in Chili, NY.  
He will also be remembered as a fine athlete who enjoyed playing golf as a member of Stafford Country Club. Even during his illness, Michael maintained his passion for bodybuilding as a regular at Chili Fitness.   He led by example, mentoring countless young students outside the classroom as a golf, wrestling and football coach.
Michael's persona was larger than life.   He was a friend and role model to all.    Most importantly, Mike's selflessness and devotion to mankind was most evident at home where he was a kind and nurturing father to his three beautiful children. Michael battled his illness head on for six long years, facing every set back with grace and dignity.  He never gave up.  Cancer did not take his passion for life, his mind, or his soul as he closed his eyes for the last time.
Michael is survived by his beloved children, Nicholas, Anna & Nathan Tenebruso all of N. Chili; loving sisters, Kristine (Patrick Sloan) Tenebruso and her children Lauren & Kayleigh Blalock, Jennifer (Stephen) Lockemeyer and their children, Jack & Kaitlyn; mother of the children, Laura (Terry) Tenebruso along with many aunts, uncles, nieces, nephews, cousins, especially Michael & Paul Berardini, his "Brothers at Heart" and many, many friends.
The Tenebruso family will be present on Friday, September 7, 2018 from 1 to 8 p.m. at the Michael S. Tomaszewski Funeral & Cremation Chapel, LLC., 4120 West Main Street Road, Batavia, NY.  Please join the family in Celebrating Michael's Mass of Christian Burial at 10 a.m. Saturday September 8th, Resurrection Parish (St. Joseph's Site), 303 East Main St. Batavia. He will be laid to rest in St. Joseph's Cemetery. 
Memorials in his memory may be made to the Tenebruso children as they build on Michael's legacy.
"We don't know how much time we have in life, no one ever knows, so you do the best you can, that's all you can do." ~ Michael A. Tenebruso
Please share your words of comfort with Michael's family at www.tomaszewskifh.com or for more information please call Michael at (585)343-7500.
THE FAMILY OF MICHAEL A. TENEBRUSO IS BEING CARED FOR BY THE MICHAEL S. TOMASZEWSKI FUNERAL & CREMATION CHAPEL, LLC 4210 WEST MAIN STREET ROAD BATAVIA, NY 14020