Image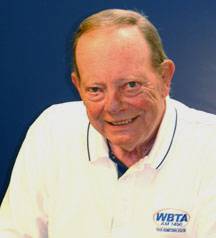 Oakfield - Jerry L. Warner, 75, of Oakfield, passed away on Sunday, November 4, 2018 at Crossroads House.
Jerry was born February 9, 1943 in Batavia, the son of the late Benjamin and Ruth (Peio) Warner.
Jerry's career at WBTA began on September 13, 1971, the day State Police stormed Attica Prison to end the uprising.  In a 2016 interview Jerry recalled, "It was my very first day on the air at WBTA. It was scary as hell. It was a situation you could not describe unless you the and even if you were, you couldn't describe it. It was horrific."  "I was sent to hospital to interview the hostages who were saved. It was just an awful, awful day."  Jerry spent more than 30 years at WBTA. His tenure was split in 1989 when he accepted a job with WEZO in Rochester and became the host of the most popular morning in the city.  He then returned to WBTA a few years later where he hosted the morning show until his retirement due to ill health in 2017. Jerry also hosted WBTA's morning talk show, "Main & Center," where he interviewed hundreds of community leaders, political figures and citizens eager to spend a few minutes with Jerry and share their stories to a vast hometown audience.  When asked when he was going to retire, he often replied "I've got the greatest job in the world.  I wish everybody could be as happy at what they're doing as I am".  Prior to his most recent time at WBTA, Jerry was the morning man for WEZO.  Taking it from as easy listening station with only music, to one with a great personality that people enjoyed tuning into every morning.  While there, he did voice work for Kodak and a narration for an exhibit at the Grand Canyon.  He was a former member of the Oakfield Presbyterian Church, a member of the Oakfield Historical Society, served with the United States National Guard, enjoyed golfing and was a Buffalo Bills fan.
Jerry is survived by his wife, Darlene K. Warner, of Oakfield, who together celebrated their 53rd wedding anniversary in August; two sons, Michael L. (Laurie) Warner of Lancaster and Stephen D. Warner of Maryland; granddaughter, Kinsey L. Warner of Lancaster; sister-in-law, Diane DeMus of Charlotte, NC; nephew, Aaron (Allison) DeMus of Charlotte, NC; neighbor grandchildren, Susie and Jake Houseknecht of Oakfield and several cousins.
Calling hours are Thursday from 3 to 7 p.m. at the Burdett & Sanford Funeral Home, 11 Maple Avenue, Oakfield, where services will be held Friday at 10 a.m.  Jerry will be laid to rest in Cary Cemetery, Oakfield.
Memorials may be made to Crossroads House, P.O. Box 403, Batavia, NY 14021, www.crossroadshouse.com/donate, Oakfield Historical Society, P.O. Box 74, Oakfield, NY 14125 or the Oakfield Fire Department, P.O. Box 184, 20 Albert Street, Oakfield, NY 14125.  
Please leave a condolence, share a story or light a candle at www.burdettandsanford.com.