December 26, 2018 - 11:07am
Gerald J. Buckenmeyer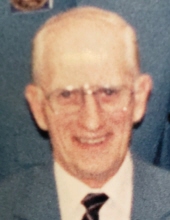 Gerard J. Buckenmeyer, 89, of Alexander, NY, passed away on Saturday, December 22, 2018. He was born in Alexander, NY to the late Frederick and Minnietta (Bartz) Buckenmeyer. Jerry grew up on the family farm in Alexander. Jerry was predeceased by his son, Brian and his sister, Rita Ann Welker.
He remained in Alexander his entire life and was very active in many church and community organizations. Jerry was a United States Postal employee and was a member of the Rural Letter Carrier Association. In the community, he was a past President of the Alexander Volunteer Fire Department, Western New York Fire Association, and FASNY. He was past president and longtime member of Alexander Central School Board of Education; but enjoyed supporting his children and grandchildren in their school endeavors. Jerry was Secretary of the Tuesday Night 2nd Shifters Bowling League. He loved golf and was an avid Buffalo Bills fan. Jerry was Lector and Eucharistic Minister at St Vincent's Church where he also sang in the church Folk group and Peace Choir. He was a member of the Holy Name Society and a 4th Degree Knight of Columbus. Gerry lived a full life.
Jerry is survived by his loving wife, Ann (Meyers) ; his children, Andrew (Sue) of Alexander, NY, Philip (Gail), of Liverpool, NY, Colette (Richard) Guarino, of Alexander, NY, Michelle Buckenmeyer of Rochester, NY, and Judy (John) Borner of Deerfield, NY; daughter in law, Laura, of Lake Ridge, Va; 18 grandchildren; 4 great grandchildren.
Calling Hours will be held on Thursday, December 27, 2018 from 2-4 P.M. and 7-9 P.M. at Marley Funeral Home, LLC, 135 Main St, Attica, NY 14011. A Funeral Mass will be held at 10:00 A.M. on Friday at Sts Joachim & Ann Catholic Church, 50 East Ave, Attica, NY. Burial will be in St Vincent's Cemetery, Attica.
In lieu of flowers, please make a donation to the Alexander Volunteer Fire Department, 10505 Main St, Alexander, NY 14005 or the Fathers and Brothers Maryknoll Mission at donate.maryknoll.org in honor of Jerry. For more information please call (585) 591-1212 or to leave a message of condolence visit www.marleyfuneralhome.com. Arrangements completed by Marley Funeral Home, LLC. 135 Main St, Attica, NY 14011