April 19, 2019 - 11:04am
Lydia V. Zinni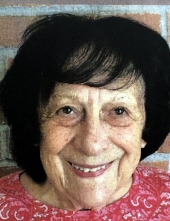 Lydia V. Zinni, a long time former resident of Batavia, passed away on March 19, 2019 in Jacksonville, FL. Lydia was born on May 14, 1922 in New York City. She was the only child of Ernesto and Mary Bertone.

She enjoyed many outdoor activities including horseback riding, tennis, cross country skiing, and ice skating. She always believed that exercise was important and was taking aerobic classes into her 80's! Lydia was an excellent cook and advocated healthy meals even before it was the fad! She made everything from scratch. Her pie crusts were unbeatable and her strawberry rhubarb pies will not be forgotten. She was a talented seamstress and enjoyed sewing costumes and clothing for her daughters, and even tackled re-upholstering furniture. Lydia also enjoyed traveling throughout the USA, Canada, Australia, New Zealand, Europe, and several Caribbean Islands. Prior to marrying the love of her life, Donald Zinni, in 1950, and moving to Batavia, she was an executive secretary at the Montgomery Ward Headquarters in NYC. Lydia was a devoted and loving wife and mother, grandmother, and great grandmother. Her family was the most important thing in her life. Her loving and caring ways will be cherished forever.

Lydia is survived by her loving husband of 68 years, Donald; her daughters & son in laws: Lynne Stager (John), Virginia Reist (Charles), Paula Reeger (Terry); seven grandchildren: Kevin Stager, Maria Stager, Erik Reeger, Erin Katzman (Andy), Danielle Dallas (Scott), Rachel Reist, and Harland ( Andrea) Reist; six great grandchildren: Mollie, Ian,& Margaret Dallas, Hailey Reist, Jacob & Micah Katzman. She is also survived by sisters-in-law Rose Marie Szadek and Elizabeth Zinni, and brother-in-law George Massar, along with several nieces and nephews.

Lydia was a faithful member of St. Anthony Church and Ascension Parish. She was a wonderful role model for her daughters. Lydia enjoyed life and was always up for a good time. She will be sadly missed.

There will be no prior calling hours. An 11:00AM Mass of Christian Burial will be held on Saturday April 27, 2019 at Ascension Parish 15 Sumner St. Batavia, NY 14020. Mrs. Zinni will be entombed in St. Joseph's Mausoleum.

The family requests no flowers. The family kindly requests that memorials in Lydia's memory be made to The Sisters of Mercy NY, PA, Pacific West Community Development Office 625 Abbott Rd. Buffalo, NY 14220-2092 www.sisterofmercy.org. For more information please call 585-343-8260 or to leave a message of condolence please visit www.gilmartinfuneralhome.com. Arrangements completed by Gilmartin Funeral Home & Cremation Company, Inc. 329-333 West Main Street Batavia, New York 14020.