April 20, 2019 - 3:43pm
Patsy Palermo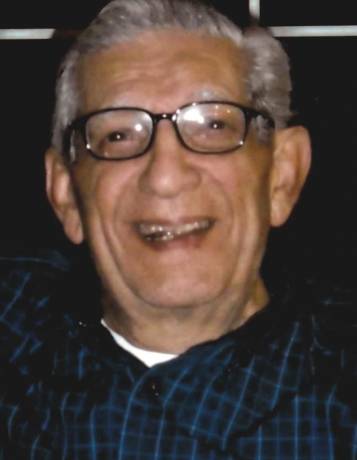 Patsy Palermo, 89, of Batavia passed away peacefully on Saturday April 20, 2019 at the Premier Genesee Nursing and Rehabilitation Center. He was born on November 29, 1929 in Elba, NY to the late Anthony and Lena (Marbella) Palermo. In addition to his parents, Patsy is predeceased by his son-in-law; Joseph Fragnito; siblings James Palermo, Betty Palermo, Florence Smith,  brother Onofrieo (Barbara) Palermo, Rose (Eugene) Marcello.
Patsy was a self-employed Muck Farmer working in the family business in Elba for many years and was also a machinist at Delco Products for over 28 years. He was a member of the St. Nicholas Club, the Holy Name Society, an alter server and a member of St. Joseph's RC Church. Patsy was an avid sports enthusiast. He dedicated much of his life to research for spinal injuries through the Miami Project. He loved to sing, dance and make Sunday sauce. Patsy will forever be remembered as a steady family man, a loyal, respected, devoted and loved husband, father, grandpa, Nanu and friend. Everyone loved Patsy.
Mr. Palermo is survived by his loving and devoted wife of almost 65 years; Virginia (Gringer) Palermo of Batavia; children Patty A. Fragnito of Batavia; James (Nancy) Palermo of Batavia and Ricky Palermo of Batavia; siblings Carm (late Larry) Dunn of Chili, JoAnn (Edward) McDonnell of Rochester and Carol (late James) Gagliano of CA.; brother in law Donald Smith of Churchville; granddaughters Jamie M. (Eric) Peskor, Amy (Greg) Ciszak and Annie Palermo DPT; great-grandchildren Luke Peskor, Lena and Wesley Ciszak, along with many nieces and nephews.
Family and friends are invited to call on Tuesday April 23, 2019 from 12:00PM-1:45PM at Resurrection Parish (St. Joseph's site) 303 East Main Street Batavia, New York 14020, where a 2:00PM Mass of Christian Burial will immediately follow visitation. Patsy will be laid to rest in St. Joseph's Mausoleum.
Flowers are gratefully declined. Memorials may be made to The Miami Project to Cure Paralysis http://www.themiamiproject.org. For more information please call 585-343-8260 or to leave a message of condolence please visit www.gilmartinfuneralhome.com. Arrangements completed by Gilmartin Funeral Home & Cremation Company, Inc. 329-333 West Main Street Batavia, New York 14020.