July 15, 2019 - 8:45am
Jane E. Read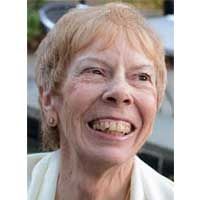 Jane E. Read, 75 of Corfu, passed away peacefully on Monday (July 1, 2019) at her residence, under the care of her family and Hospice.
She was born February 27, 1944 in Batavia, NY, a daughter of the late Albert and Helen Schifla Hamilton.
Jane was a generous, loving, thoughtful, and endlessly kind woman who never stopped moving. Born and raised in Corfu, she met her future husband, Don M. Read, in high school. They married in 1967. An avid athlete, she studied physical education at Cortland State University and earned a bachelor's degree magna cum laude in 1966. After graduating, Jane began her career as a physical education teacher, and spent more than three decades at Pembroke Primary School. Jane felt a strong dedication to teaching young children how to play and enjoy sports and take these lessons off the field into their daily lives. She developed many innovative approaches that built bridges between the gymnasium and the classroom, stayed up late laboring over report cards, and placed a great emphasis on sportsmanship: A sign in her gym read, "If the game was fun, then everybody won." 
Jane was an excellent cook and baker, and her thoughtfulness and affection for others often took the form of delicious desserts. Workers who came to Jane's house never made it a day without being asked about their favorite type of cookie or pie. Jane loved to be outside and took great pride in her large and immaculate yard, riding her lawnmower, tending to colorful flowers and pulling up dandelions, which she hated. Jane was also an active member of Cornerstone Church, serving on the church council and many committees, and often making sure fresh flowers were on hand to brighten the sanctuary. Jane served for seven years as a board member of Genesee Community College, and she was an officer of the Genesee County Women's Republican Club. Most of all she loved her friends and family. She provided tender care to loved ones during their long illnesses, and delighted in the happiness and accomplishments of her two sons and their families. 
Survivors include her husband, Don M. Read of Corfu. Sons, Brock (Libby Sander) Read of Washington, DC and Spencer (Cory) Read of Irondequoit. Grandson, Nathaniel Read. Brother, Thomas Hamilton of Corfu.
Family and friends may call on Friday, July 19th from 2-4 pm and 7-9 pm at the C.B. Beach & Son Mortuary, Inc., 4 East Main St., Corfu, NY.  A funeral service will be Saturday, July 20th at 10:00 am at Cornerstone Church of East Pembroke, 2583 Main St., East Pembroke, NY. Interment will be in Hillside Cemetery, Corfu.
Memorial contributions may be made in Jane's name to Cornerstone Church, 2583 Main St. PO Box 189, East Pembroke, NY 14056 or Roswell Park Alliance Foundation, Elm & Carlton Streets, Buffalo, NY 14263.
Arrangements were entrusted to the C.B. Beach & Son Mortuary, Inc., Corfu, NY.