December 2, 2019 - 1:50pm
Jeanne Mae Kinne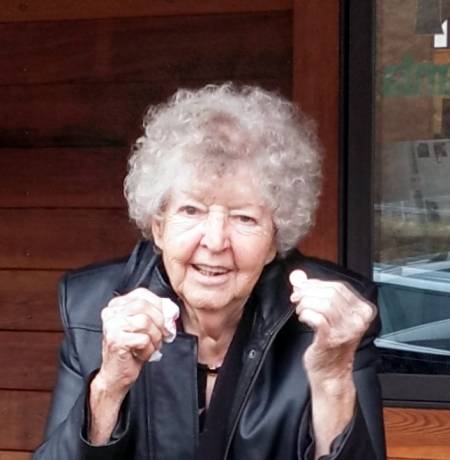 Jeanne Mae Kinne, 88, of Alabama passed away on Friday November 29, 2019 at the Erie County Medical Center in Buffalo. She was born December 2, 1930 in Batavia, the daughter of the late Maude (Howard) Craft. Reuniting in heaven with her husband of 70 years; Arthur R. Kinne.
Jeanne along with her husband spent there many years working in the Alabama area. Getting started after marriage, Jeanne worked alongside with Art at Starkweather Egg Farms in Pembroke. They started their own Kinne Sport Shop on Church St. selling snowmobiles and hunting supplies.  Over the years, many folks have reminisced about the shop "Hunting Stories". Jeanne also worked at Alexander's in Batavia selling clothing. Jeanne and Art were the caretakers of the Alabama Cemetery for many years, and on top of all that, she worked at the US Post Office in Alabama, Basom. Jeanne certainly enjoyed life to the fullest. She went to the Alabama Methodist Church after marriage where she spent many years helping out with Sunday school. She belonged to the Old Fellows in Alabama with the Rebekah's and never stopped with the Rebekah Creed; believe in friendship, love and truth. Within the 57 years she held many office positions and was the Noble Grand Officer. After the Alabama Lodge, she joined the Corfu, Lockport Lodges and was a member of the Alabama American Legion. She loved to play euchre, work on her flowers beds, play with her grandkids and drink good cup of coffee. Our hats are off to you Jeanne, the Alabama community will miss you, and by the way Jeanne, Happy 89th Birthday.
Surviving family members are her daughter; Patty Mae Pelton, son-in-law Ray Pelton; grandsons Bart and Clint Towne; great-grandchildren Kory Towne and Sophia Heverm; predeceased grandson Shane Towne.
There will be no prior calling hours. A 12:00PM Memorial Service will be held on Wednesday December 4, 2019 at the Alabama & Basom Methodist Church 1392 Church St. Alabama, NY 14013. Jeanne will be laid to rest in the Alabama Cemetery.
In lieu of flowers, memorials may be made to the Alabama – Basom Methodist Church or St. Jude Hospital www.stjude.org. For more information please call (585) 343-8260 or to leave a message of condolence please visit www.gilmartinfuneralhome.com. Arrangements completed by Gilmartin Funeral Home & Cremation Company, Inc. 329-333 West Main Street Batavia, NY 14020.