December 2, 2019 - 2:38pm
Dolly (Phyllis) Piazza
posted by
LaVern Falcone
.
LeRoy ~ Dolly (Phyllis) Piazza, 79, of West Main Road, passed away Saturday evening, November 30, 2019, at Strong Memorial Hospital in the loving presence of her family.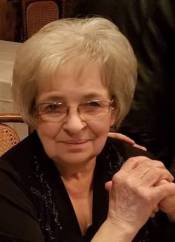 She was born on December 30, 1939 in Batavia a daughter of the late Nunzio "Duke" Maloni and Stella Macugowski. She was a graduate of LeRoy High School, Class of 1957.
     She retired in 2017 after 38 years as co-owner and Head Chef and Baker at LB Grand Restaurant. At age 11 she learned to make her signature spaghetti sauce and meatballs in her father's restaurant when her mother fell ill. Her mother eventually recovered and over time, taught Dolly how to make various homemade pies, cakes, pastries and other desserts.
     She also worked many years as a waitress in the Club House at Batavia Downs. She then entered the bar and restaurant business with her husband and several different family members over the years.
     She will be remembered not only for the quality of her cooking, but also for her hard work, forgiving nature, generosity and love for her family and friends. She was an inspiration to all that knew her.
     She is survived by her husband of 60 plus years Ronald A. Piazza Sr., a brother, Samuel Maloni,  a sister in-law Cindy Maloni of LeRoy, children, Ronald (Cindy) Piazza, Pamela Morrow (Ronald Shoemaker) all of LeRoy, Joseph Piazza of Tavares,Florida, Michael Piazza and John (Joele) Piazza also of LeRoy. She is also survived by 13 grandchildren, Nicolena (Mike) Schmidt of Dale NY, Janelle Piazza (Matt Ellis) of LeRoy, Nicholas (Kari) Piazza of Ransomville, NY, Joseph Piazza Jr., Anthony Piazza and Vincent Piazza all of Tavares, Florida, Kimberly (Josh) Jacobs of Hawaii,  Melissa Piazza of Batavia, Nate Piazza of LeRoy, Kari Piazza (Steve Cappotelli), Benedicto Piazza, Carli Piazza, and Tony Piazza all of LeRoy, and 3 great-grandchildren,  Ariana Bodine and Abigail Bodine of LeRoy and Peyton Jacobs of Hawaii, a nephew, Robert Maloni of LeRoy and a niece Karen Maloni Ferguson of Massachusetts..
Dolly was predeceased by her parents, a brother, Joseph Maloni and nephews Joseph Maloni Jr., John Maloni and Nicholas Maloni.
     Family and friends may call on Wednesday, December 4th from 2 – 8 PM at the Falcone Family Funeral & Cremation Service Inc., 8700 Lake Road, LeRoy.
     A Memorial Service and interment for Dolly will be held privately.
     Memorials may be made to LeRoy Ambulance Service, P.O. Box 56, LeRoy, N.Y. 14482.
     Your memories and condolences may be shared with Dolly's family at www.falconefuneralhome.com.