December 13, 2019 - 3:06pm
Ercel A. Putney
posted by
Ronald Konieczny
.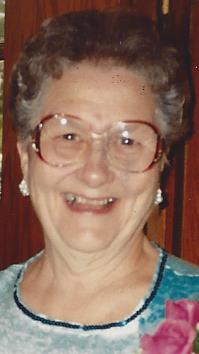 Ercel A. Putney passed away on Wednesday, December 11, 2019, at the age of 95 surrounded by her loving family. She was born to the late Raymond and Edna (Knight) Maxon on the Maxon Family Farm in Bennington, NY, on August 30, 1924 as one of eleven children.
Whether it was playing in the snow with her brother Art, helping her father drive a team of horses in the sugar bush, or going barefoot in the yard with a chicken under her arm, Ercel was known for her kindness and generosity, always putting others before herself. A quick wit and funny sense of humor accompanied her bright personality. An active 4-H leader for 25 years of the Alexander Buttons & Batter 4-H Club, she was also a member of Home Bureau, Hobby Club, and the First Baptist Church of Batavia. A passionate gardener, Ercel enjoyed being outdoors, tending to her flower beds, and growing vegetables which she would can and freeze to use during the winter. She enjoyed sewing, knitting, crocheting, and was an avid baker, known for her signature crescent rolls and potato salad.
Her greatest accomplishment, pride and joy were her seven children, twelve grandchildren, and nine great-grandchildren.
Ercel is survived by her seven children: Neil Putney of Alexander, Sherry Floyd of College Station, TX, Zynon (Lisa) Putney of Brockport, Ricky (Arlene) Putney of Coatesville, PA, Chareny (Darwin) Rydl of College Station, TX, Jama (Frank) Giammona of Santa Rosa, CA, and Aurilla Putney of Alexander. She is also survived by 12 grandchildren, nine great-grandchildren, one sister Elaine (Joseph) Heller, Jr. of Bennington, as well as several nieces and nephews.
She was preceded in death by her husband of fifty years, the late Merton C. Putney, son-in-law Lou Floyd, and nine brothers and sisters: Wilma Nichols, LaVern Maxon, Althea Barager, Howard Maxon, Dain Maxon, Genevieve Reiner, Daisy MacPherson, Gifford "Art" Maxon, and Stuart Maxon.
Family and friends are invited to join Ercel's family for tears, hugs, and fond memories at the J. LEONARD McANDREW FUNERAL HOME, LLC, 2 Bogue Ave., Batavia,  on Wednesday, December 18th from 4:00 - 8:00 pm, and on December 19th from 9:30 -11:00 am at the FIRST BAPTIST CHURCH OF BATAVIA, 306 East Main St., Batavia, with the funeral service immediately following. Interment will be in Mt. Pleasant Cemetery in Alexander.
In lieu of flowers, memorials may be made to the Alexander Fire Department Rescue Squad Ambulance Fund or the First Baptist Church of Batavia. Expressions of sympathy may be shared with the family at: www.mcandrewfuneralhomes.net.
ARRANGEMENTS WERE ENTRUSTED TO THE J. LEONARD McANDREW FUNERAL HOME, LLC, 2 BOGUE AVE., BATAVIA, NY 14020. RONALD KONIECZNY II, DIRECTOR.