March 11, 2020 - 11:43am
Peter Guy Buckel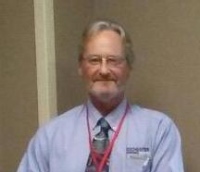 ELBA -- Peter Guy Buckel passed away peacefully February 15th, 2020 at his home in Elba. 
Peter was born in Batavia, NY March 3, 1961. He is preceded in death by his parents Richard and Leona (Stroh) Buckel, and a brother, David S. Buckel.
Peter enjoyed gardening, landscaping projects, horseback riding, woodworking and nature, campfires, and the ocean, playing and singing music, playing cards, cooking and barbecuing. He also enjoyed horseshoes, traveling, target shooting and he always found time to help others. Peter was a good conversationalist and had a kind heart.
He was employed at UMMC in Batavia, NY as Facility Mechanic/Maintenance worker; he also held the position of Emergency Preparedness Coordinator since 2015. He trained new drivers for the ambulance and volunteered as an Instructor of Emergency Medical Services training and education; he was also involved in the education and activities of children by teaching them safety procedures. He volunteered as Representative and Chairman of City, County and NY State EMT Programs. 
He is survived by: his daughter, Kristi Buckel Hebert, of Louisiana; three brothers -- James (Carol) Buckel, of Nunda, Ken (Sharon) Buckel, of Florida, and Robert (Alice) Buckel, of Batavia; and two very close friends, Ray Bolster and Michele Freeman, of Elba, and several nieces and nephews.
Private family services were held. 
Please share with the family your memories of Peter and any photos you may have at:   [email protected]