March 20, 2020 - 3:23pm
Geraldine Casper McMillan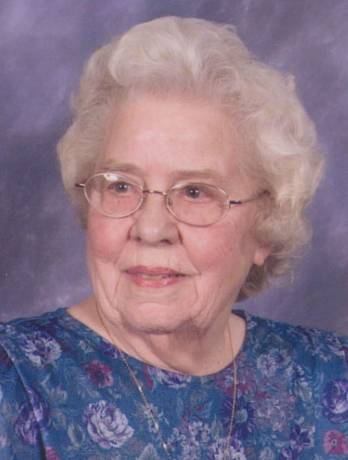 BATAVIA - Geraldine Casper McMillan, 97, of Batavia passed away on March 18, 2020 at Strong Memorial Hospital in Rochester. 
She was born May 28, 1922, in Oakfield, NY, the daughter of Joseph and Fannie Casper.
She graduated from Alexander Central High School in 1940 and in 1944 she entered St. Jerome Hospital's nursing program under the US Cadet Nurse Corp., during World War II. She received her NY Registered Nurse license in 1947.  She spent much of her life caring for others.
She was predeceased by her husband, Duncan, of 42 years whom she met when he was a patient at the VA Hospital in Batavia. He passed away in July of 1992.  They were members of the First Presbyterian Church in Batavia.  She was active in the church as a deacon, a Stephen Minister and the women's organizations.  She loved her church family.
Her greatest joy was her family.  She never missed an opportunity to attend activities with her grandchildren and great grandchildren and she never missed the yearly Casper family reunion.
She loved to watch all sports on television, especially the Buffalo Bills.  She spent many hours keeping the cookie jar full for her grandchildren and great grandchildren as well as her own children when they visited.  They were all "cookie monsters."
She is survived by her three children:  Gordon McMillan of Batavia, Carla (Lynn) Chamberlain of Fillmore and John (Doddie) McMillan of Batavia; her grandchildren:  Crystal (Tim) Nickson, Stewart McMillan, Thomas (Chrissy) McMillan, Duncan McMillan and Ryan Chamberlain; great grandchildren: Bryce, Allison, Ethan Nickson; Keira, Elizabeth, Janessa, Levi and Adelyn McMillan; three step-grandchildren: Christopher (Jill), Bryan (April) and Dan (Emily) Chamberlain and their children; her sister Ruth Hoover of Sun City Center, Florida and many nieces and nephews.
She is predeceased by her six sisters: Blanche Warboys, Lola Lutz, Beulah Shaffer, Amy Cummins, Lillian Ridley, and Dorothy Casper and three brothers: Joseph, Harold and Lester Casper.
There will be no visitation.  Private services will be held for the immediate family.  A public memorial service will be held at a later date and will be announced.  In lieu of flowers, memorials may be made to the First Presbyterian Church, 300 East Main Street, Batavia, NY 14020.
Please leave a condolence, share a story, or light a candle at www.burdettandsanford.com. Arrangements for Mrs. McMillan have been entrusted to the care of Burdett & Sanford Funeral Home of Oakfield.