March 22, 2020 - 3:15pm
Kathryn ('Kay') Dill Wickson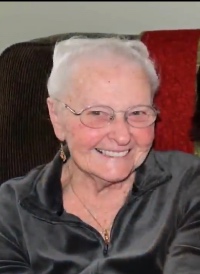 Kathryn ("Kay") Dill Wickson, 94, of Fairport, N.Y., formerly of Batavia, N.Y., passed away March 21, 2020 at The Northfield, a senior housing community in Fairport N.Y.
Kathryn was born Oct. 21, 1925 in Buffalo, N.Y., a daughter of the late Edward and Anna Belle Dill. She was predeceased by her husband Robert Wickson, son Timothy ("Bear") Wickson, and granddaughter Tracie Heather Wickson.
Kathryn was a member of St. Mary's Church in Batavia, N.Y., and a member of the Chili Fire Department Ladies' Auxiliary in Chili, N.Y. She loved Bingo, playing cards, puzzles, knitting, casino trips, and spending time with her family.
Kathryn is survived by her children: Michael Wickson, of Le Roy, N.Y.; Richard (Cheryl) Wickson, of Florida; Dennis Wickson, of Florida; Sue (Ed) Oliver, of Fairport, N.Y.; Gary (Linda) Wickson, of Le Roy, N.Y.; Barbara Michels, of Syracuse, N.Y.; 18 grandchildren; and 23 great-grandchildren also survive.
A memorial mass will be scheduled at a later date.
Arrangements were made by Richard H. Keenan Funeral Home and Cremation.