March 23, 2020 - 12:49pm
Lois "Elaine" Mortellaro
posted by
Ronald Konieczny
.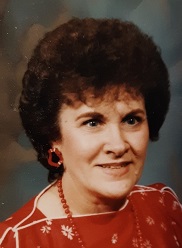 Lois "Elaine" Mortellaro, 90 of Batavia, passed away peacefully on Sunday (March 22, 2020) at United Memorial Medical Center.
She was born February 15, 1930 in Batavia, a daughter of the late Arthur and Hilda Baldauf Russell.
Elaine was co-owner of Mortellaro Sales and Service, with her late husband, Casper Mortellaro.  The two worked in tandem with Elaine managing the books and the storefront until 1990.  At that time the business was moved to her and her second husband's (Chip Reynolds) home on Alexander Road, until 2013 when the business closed after 60 plus years.  In addition to her work, Elaine was a woman of faith and attended the city church until health problems set in. Some of her favorite pastimes were bowling, going to the movies, traveling, dancing, playing card games, trying new restaurants, working outside in her garden and mowing the grass.  She was always singing and had a way of taking on each day in stride no matter what came her way.  One of her more admired qualities was her candid demeanor alongside her tender soft spot to rescue any kitten that made its way into her backyard or storefront.
She was the wife of the late Casper Mortellaro who died in 1990, mother of the late Ronald Mortellaro who died in 2009 and sister of the late Earl Russell and Delores Mooney.
Survivors include her husband, Chip Reynolds of Batavia. Daughter, Patricia (Richard) Stewart of Batavia. Grandchildren, Richard (Katie) Stewart, Trisha (Rusty) Turner and Melissa Shipperd. Brother, Sidney (Linda) Russell of California.
Services will be private at the convenience of the family with burial in Grandview Cemetery.
Memorial contributions may be made to the family. Expressions of sympathy may be shared with the family at: www.mcandrewfuneralhomes.net.
ARRANGEMENTS WERE ENTRUSTED TO THE J. LEONARD McANDREW FUNERAL HOME, LLC, 2 BOGUE AVE., BATAVIA, NY 14020. RONALD KONIECZNY II, DIRECTOR.