March 24, 2020 - 10:14am
​Marilyn W. Dills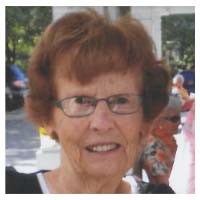 Marilyn W. Dills, age 84 of East Bethany, NY passed away peacefully, surrounded by her loving family on Friday, March 20th 2020 at
Crossroads House in Batavia. Born November 6th 1935 in Olean, NY the daughter of the late Harold L. and Elsie Brinker Weaver. Marilyn was a 1954 graduate of Pavilion Central School and worked as the bookkeeper for the family farm, Dills Bros. Inc. She was a longtime member of the East Bethany Presbyterian Church and more recently Warsaw's Valley Chapel Free Methodist Church. Marilyn was a terrific homemaker always putting her family first in all she did. She enjoyed sewing, cooking, baking, and socializing with her friends.

Marilyn was preceded in death by her beloved husband Edwin H. Dills; a son Andrew W. Dills; two brothers Dean Weaver and Dana Weaver.
Survivors include three sons, Timothy (Tena) Dills of Clymer, NY; Thomas (Michelle) Dills of East Bethany; Daniel Dills of Wright, WY; sisters, Sonia (Bill) Whaley of Pavilion; Nancy Weaver of Farmington, NY; 8 grandchildren; 12 great grandchildren and several nieces and nephews. Marilyn's family would like to thank the volunteers and staff at Crossroads for the excellent care that she received. We also want to thank all of her friends that took the time to visit mom at Crossroads.

A memorial service will be announced at a later date at the Valley Chapel Free Methodist Church in Warsaw. Burial will follow in the East Bethany Rural Cemetery. Please visit www.weeksfuneral.com to offer condolences, send cards. In lieu of flowers, contributions may be made to Crossroads House at PO Box 403 Batavia, New York 14021. Crossroads House has been operating for 22 years, providing no cost service to the residents and their families. They rely entirely on donations and volunteers.