April 8, 2020 - 10:28am
James Newman "Jim" Morey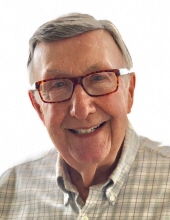 James Newman Morey "Jim" of Wyoming, New York passed away peacefully on April 5, 2020 in Perry, New York. Known for being a gentleman, his engaging, kind personality and wit, and of course, his intellect and creativity, Jim was loved by all.
He was born November 13, 1933 to Ernestine and Ira Morey in Flushing, New York. He attended Ohio University, and Columbia University where he earned his Master of Arts with honors. He started teaching, but finding it unexciting, he began his stellar career in advertising spanning 38 years. Between 1959-1964, he worked in Cleveland at three agencies and produced award- winning work. Jim moved to Rochester, New York in 1964 and worked for Hutchins Advertising Co., Inc. as a Senior Copywriter. Soon, he became the Executive Vice President and Creative Director, receiving national and international awards. Jim claimed, "Business travel also opened my eyes to the wonders of Europe and the Caribbean." In 1969, he was appointed President of Hutchins/Y&R, CEO in 1978, and finally Chairman prior to his retirement in 1997. Jim kept busy serving on the Genesee Valley BOCES Board and many committees for years. Wrote a comedic play for students "Learn to Earn" which garnered rave reviews and in 2006, was awarded the Albert W. Hawk Distinguished School Board Service Award for Outstanding Contributions to Public Education. Served on the Wyoming Central School board, active in the Rural School Boards Association, former member of the Wyoming County Community Health Systems' board of managers and foundation board and past president of the Wyoming Free Library. He served on the board of GCASA, a substance abuse agency and was very involved with the Silver Lake Institute.
Jim was a Renaissance man who loved the arts including music, singing, writing, fine literature and, was a theatre scholar. He also enjoyed traveling, cooking and fine wines! He played the piano by ear and in college, wrote the music and produced a musical "The Strawberry Adventure," without being able to read a note! He also played a guitar. Jim was a down- to- earth person who loved being with his family above all else; his wife Jeanne of 14 years, who was his loving companion in everything, including travel, and writing "The Tinker's Tale" together; adored his children and grandchildren, and of course, his entire clan of relatives.
Jim loved summers at Silver Lake with his family and cousins, enjoying gatherings, boating, the Charcoal Corral, dinners out. And Silver Lake itself, the place he loved with all his heart, was his anchor. Jim said, "It was-and probably always will be-my spiritual home."
His survivors include his wife, Jeanne Stillman Morey whom he married on June 10, 2006, five children, Allison (Dennis) Morey Hays, David Newman Morey, Dinah (Griff) Lawrence Godwin, John Rogers Morey, Stephen Rogler Morey, and six grandchildren: Alexandra Carson and Zachary James Hays, Anna (Nathan) Lawrence Beavers and Sarah Katherine Godwin, Carson James and Sydney Suzanne Morey, also survived by his first wife and friend, Frances Rogers Morey.
Along with his parents he is preceded in death by Nancy Jean Lawrence, the mother of his younger daughter and his second wife Marsha Rogler Morey.
A Memorial Service will be scheduled for James Newman Morey in the summer.
In lieu of flowers, donations may be made to Suzanne's Comfort Care Home, 167 North Main Street, Perry, NY 14530. For more information please call (585) 237-2626 or to leave a message of condolence visit www.eatonwatsonfuneralhome.com. Arrangements completed by Eaton-Watson Funeral Home, LLC. 98 North Main Street, Perry, New York 14530.