April 17, 2020 - 3:21pm
PATSY S. GALLO
posted by
Michael Tomaszewski
.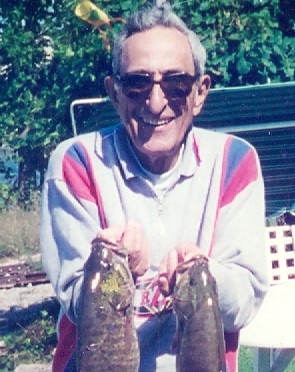 PATSY S. GALLO ~ Age 93, passed away peacefully on Wednesday April 15, 2020 at Strong Memorial Hospital in Rochester. Patsy was born on October 13, 1926 in Oakfield, NY, a son of the late Rosario and Mary (Marabella) Gallo, he was also preceded in death by his siblings, Anthony (Rose) Gallo, John Gallo, Josephine (Joe) Joy, Theresa (Anthony) Massaro, Betty (Frank) Spadacino, Mildred Gallo and sister-in-law, Dolores Gallo.
Mr. Gallo was a longtime member of Resurrection Parish (St. Joseph's) and was a retired machinist from the former Trojan Industries. He always had a smile on his face, was quick with a joke and loved to sing to his family. He enjoyed going to the casino, having coffee with his pals, hunting, fishing, and watching the New York Yankees. Pasty will be remembered as a loving father, grandfather, great-grandfather and for the unconditional love for his wife of 71 years,
Pat is survived by his devoted wife of 71 years, Margaret (Dailey) Gallo of Batavia; sons, Patrick (Vicki) Gallo of Ontario, John (Karen) Gallo of Batavia; daughter, Catherine (Theresa Suozzi) Gallo of Rochester; brothers, Frank of Batavia and Sam of Williamson; seven cherished grandchildren, 8 great-grandchildren along with many nieces and nephews.
Due to the on-going COVID-19 epidemic Pat's visitation and funeral mass will be held at a time deemed safe to do so. He will be laid to rest in Grand View Cemetery and memorial contributions may be made to Crossroads House PO Box 403 Batavia, NY 14020.
Pat's family wishes to offer many thanks for the wonderful care he received from his caregiver, Mitzi Youchzee and Unit 412 at Strong Memorial Hospital.
Please share your words of comfort with Patsy's family at www.tomaszewskifh.com
THE FAMILY OF PATSY S. GALLO IS BEING CARED FOR BY THE MICHAEL S. TOMASZEWSKI FUNERAL & CREMATION CHAPEL, LLC 4120 WEST MAIN STREET ROAD BATAVIA, NEW YORK 14020 – (585)343-7500