June 23, 2021 - 11:42am
​Beatrice Ostrander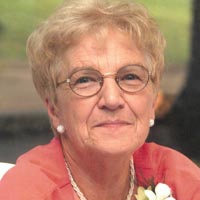 UPDATED: Beatrice Ostrander of Allen, Texas passed away on May 8, 2020 at the age of 88. She was born on September 16, 1931 to Zachariah "Boo" and Mary (Marrow) Cox in Carlton, New York.  Beatrice is a former resident of Alabama, New York.  Beatrice married Donald Ostrander on July 29, 1950 at the Kent Baptist Church in Kent, New York.  She was "gramma Bea" to the children she would babysit, Bea to her coworkers at J C Penney in Medina and at the corner store, Alabama Holley Farm, Aunt Beattie to nieces and nephews.  Bea enjoyed working in her roses, sewing, cooking and being independent in spite of a loss in her vision. She has left us with so many memories.
 
Beatrice is survived by her children, Sandra (Russ) Weimer or Allen, Texas, David (Donna) Ostrander of Fort Myers, Florida, and Douglas Ostrander of Bergen, New York; grandchildren, Christopher Weimer, Tricia (Kevin) Shafer, Kimberley Chapman, Nicole Ostrander, Amber Ostrander, and Ryan Ostrander; 10 great grandchildren, a sister, Mary (Wilbert) Fraiser of Barre Center, New York; and numerous other loving family and friends.
 
She was preceded in death by her husband, Donald Ostrander (2001); 4 brothers, Robert, Sydney, John, and Clayton (Jean) Cox; and sisters, Anna Mae (Harold) Germeo, Sara "Betty" Churchill, and Florence "Tootie" Roth, nieces, Kathy Cox and Virginia Marie Cox, a nephew, John Cox.
 
There will be no calling hours. A memorial service will be held at 11:00 a.m., Thursday, July 29, 2021 at Alabama-Basom United Methodist Church, 1392 Church Street, Alabama, New York 14013. An inurnment will be held The Alabama Cemetery.
Memorials may be made to The Alabama-Basom United Methodist Church, The Alabama Fire Department or Crossroads House @ PO Box 402, Batavia, NY 14020 or online at www.crossroadshouse.com/donate.

The family of Beatrice Ostrander is being cared for by Turrentine-Jackson-Morrow, 2525 Central Expressway, North, Allen, Texas 75013. To convey condolences or to sign an online registry, please visit TJMfuneral.com