May 21, 2020 - 8:33am
Thomas D. Englerth
posted by
LaVern Falcone
.
Stafford ~ Thomas D. Englerth, age 72, of Main Road, passed away Monday morning (May 18, 2020) at Unity Hospital.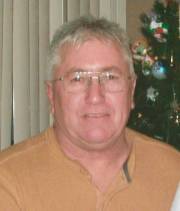 He was born July 22, 1947 in Rochester, a son of the late Edward and Agnes Dool Englerth.
     Tom will be remembered as a wonderful and loving husband, father, grandfather and brother.  He was a hardworking, lifelong farmer and was known to be quite the jokester and story teller.  He had a special laugh that will be dearly missed by many.  Throughout his life, Tom enjoyed collecting matchboxes and license plates. He had a passion for going to local auctions to find things to add to his collections and to meet new people. Tom's outgoing personality always captured people, leading him to make many friends throughout his life. When he wasn't farming or auction hunting he loved taking rides with Nancy in his corvette. 
     He will be sadly missed by his loving wife of 50 years, Nancy Stefaniak Englerth; his sons,  Thomas (Kristen) Englerth Jr. and Todd (Laura) Englerth, both of Stafford; grandchildren, Kari Green, Thomas Alan, Mia Rose, Harper Mae, Nora Rain, Joshua James, Andrew Thomas and Alexa Lee; great-grandchildren, Kylee and Baylee; sister, Gloria (John) Rider of LeRoy; sister-in-law, Beverly Englerth of FL, along with many other sisters-in-law, brothers-in-law, nieces, nephews and dear friends.
     He was predeceased by his siblings, Connie Steedman, Edward Englerth and Marlene Italiano.
     Funeral Services will be held at a later date to be announced.
     Contributions in memory of Tom are suggested to Crossroads House, P.O. Box 403, Batavia, N.Y. 14021 or www.crossroadshouse.com .
     Your memories and condolences may be shared with Tom's family at www.falconefuneralhome.com .
     Mr. Englerth and his family are being cared for by the Falcone Family Funeral & Cremation Service Inc. in LeRoy.  585-768-2400