May 26, 2020 - 8:35am
Jerome W. Acquard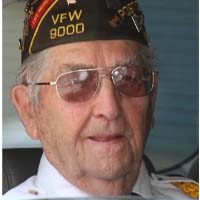 Corfu - Jerome W. Acquard was born in Buffalo, New York on March 3, 1922, and passed in peace on May 21, 2020, at the age of 98 at his beloved home in Corfu, NY. He is survived by his beloved wife Carol Ann and was the loving father of Bonnalee Acquard and Lucinda Acquard of Houston, John Acquard and Kathleen Zaccaria of Knoxville, and Shelley Acquard-Moore of Corfu. Many grandchildren, great-grand children and great-great grand children as well as nieces, nephews also survive.
He is preceded in death by parents John and Mary Hummel Acquard, brother, Stephen Joseph Acquard, sisters Alice Helen Morris and Grace Mae Lyons and son, Thomas Brian Acquard, grandsons Anthony Jerome Moore and Christopher Michael Acquard
He was a World War II veteran and took pride in his service from 1942-1945 receiving the Bronze Star among several other medals of distinction. Jerry participated in numerous Veteran events including a half time memorial at the Buffalo Sabres game, and marching with fellow VA members in area parades and functions. 
Jerry took fashion cues from only one person, his signature every day look was in color coordinating his clothes to match that of Carol. If you saw them out , you always knew them by their matching outfits.
Besides keeping up his beloved little farm, he hung out in his man cave in the barn and rode around on his four-wheeler at break neck speed, somehow never falling off. A few of the many things he loved was the Buffalo Bills, fishing, bowling, golfing on his private golf course, playing pinochle, eating limburger cheese and onion sandwiches, his Precious Moments collection and having his big family and friends over.
May your strong faith in the Lord grant you peace and take you to your heavenly home you were well loved and loved many in return.
Due to Covid-19, no memorial services are allowed. The Patriot Guard Escort will lead a procession from the C. B. Beach & Son Mortuary, Inc., 4 East Main Street, Corfu to St. Vincent's Cemetery in Attica on Thursday, May 28, 2020, at 12:15 pm with a condolence drive by at 1:15 pm after private family services. 
Family is planning to have memorial celebration of life next year Memorial weekend at our home.