May 28, 2020 - 12:01am
Mary Jean McJury
posted by
Ronald Konieczny
.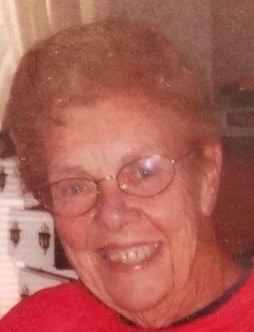 Mary Jean (Borst) McJury, 88, passed on to eternal life Monday, May 25, 2020.  A lifelong Batavia resident, Mary Jean ("Mac") leaves behind legacies of family and public service.  Her passing leads to a reunion with her husband, Robert K. McJury, and several other family members.  She is survived by 5 children, Dan McJury of Lancaster, NY, Bob (Patricia) McJury of Fairport, NY, Mary Beth (Dan) Riordan of Alexandria, VA, Ellen (Matt) Dooley of Vienna, VA, and Tom (Lori) McJury of Fairport, NY.  She is also survived by and was extremely proud of her 14 grandchildren and 8 great-grandchildren (with two more coming soon).
Mary Jean had committed her life to serving others via a nursing career that spanned over 40 years.  Each time her name came up in conversation with others – usually with strangers - there was always a "Mac" story that followed; this included delivery of babies, comforting the seriously ill in the hospice unit, dealing with late-night emergency room mayhem, and ultimately supervising dozens and dozens of nurses.  In 1972, she quickly volunteered to enter Attica prison during the infamous riots to care for the injured corrections hostages and inmates.  In her later years she continued her service on the Genesee County Board of Health, serving as president for several years.  Together with her husband Bob, they worked to instill in their children an attitude of giving back and serving others.
The family has a forever and deep sense of gratitude to the talented, wonderful, and compassionate staff at the LeRoy Village Green nursing home, who supported and guided her through these final years.
Funeral services will be held at the convenience of the family with entombment in St. Joseph Cemetery.
Mary Jean was a lover of animals, particularly dogs.  Therefore, in lieu of flowers, please consider a donation to the Humane Society of Greater Rochester / Lollypop Farm at www.lollypop.org or via mail Lollypop Farm, 99 Victor Road, Fairport, NY 14450. Expressions of sympathy may be shared with the family at: www.mcandrewfuneralhomes.net.
ARRANGEMENTS WERE ENTRUSTED TO THE J. LEONARD McANDREW FUNERAL HOME, LLC, 2 BOGUE AVE., BATAVIA, NY 14020. RONALD KONIECZNY II, DIRECTOR.