June 4, 2020 - 10:49am
Joan D. (Waclawski) Torcello
posted by
Ronald Konieczny
.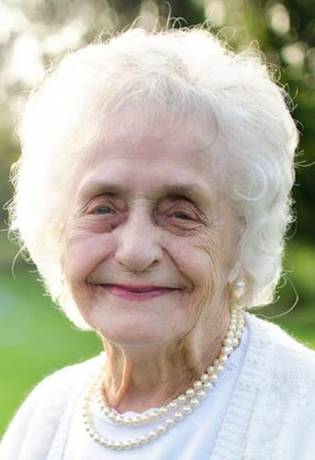 Joan D. (Waclawski) Torcello, 96, beloved wife of the late Ralph F. "Rick" Torcello, died June 1, 2020 at Crest Manor Nursing Home in Fairport, NY.  Mrs. Torcello was born February 8, 1924, a daughter of the late Anthony and Anna Waclawski of Bethany Center & Buffalo, NY.  She was a Business Major graduate in 1941 from Riverside High School in Buffalo and upon graduation, worked first as an aircraft riveter and then as account clerk at Bell Aircraft Corporation. 
During WWII Joan moved to Washington, D.C. to work as an account clerk with the Navy Department and later for the Veteran's Administration in D.C. and in Buffalo after the war.   She and Rick were married on October 19, 1946 after his discharge from the Naval Armed Guard that year.
Joan continued to be employed over the years in accounting and office management for Roy Porter Produce & Brokerage in Elba for over 12 years.  She retired from the Batavia Holiday Inn in 1986 after 14 years as their bookkeeper and accountant.  Over her lifetime she was a member of the Stafford Planning Board, the Republican Stafford and County Committees, the Byron-Bergen PTA, serving as president, and the Byron Bergen Advisory and Educational Study Committees.
She enjoyed volunteering at the St. Jerome Hospital Gift Shop and the Batavia Senior Center.  She also participated as a member of the Ladies Auxiliary of the Glenn S. Loomis Post #332, Batavia American Legion.  With her husband, she was an avid summer Silver Lake camper and loved showing their antique automobiles at area car shows.  A devout Catholic, she was a member of Ascension Parish/Sacred Heart Church and former member of the Altar & Rosary Society.
She is survived by her four children, Patricia A. (Joseph) Catalina of Valatie, NY; Marcia A. (Joseph) Rice of Pittsburgh, PA; Ronald R. (Mary Cain) Torcello of Churchville, NY; and Robin J. (Stephen) Hodownes of Honeoye Falls, NY; eight grandchildren and five great grandchildren.  She was preceded in death by sisters Mary Dombrowski, Sophie Adolf, Stella Kawacz, Frances Polec, Julia Slusar, Helen Hunt and Josephine Mager, and by brothers Joseph Waclawski, John Waclawski and Walter Waclawski.
Private services and funeral mass will be held at the convenience of the family. Interment will be in St. Joseph's cemetery. 
In lieu of flowers, the family suggests memorials may be made to the Alzheimer's Association, Mass cards or to a charity of the donor's choice. Expressions of sympathy may be shared with the family at: www.mcandrewfuneralhomes.net.
ARRANGEMENTS WERE ENTRUSTED TO THE J. LEONARD McANDREW FUNERAL HOME, LLC, 2 BOGUE AVE., BATAVIA, NY14020. RONALD KONIEZNY II, DIRECTOR.