June 4, 2020 - 10:54am
James H. Laskey, Jr.
posted by
Ronald Konieczny
.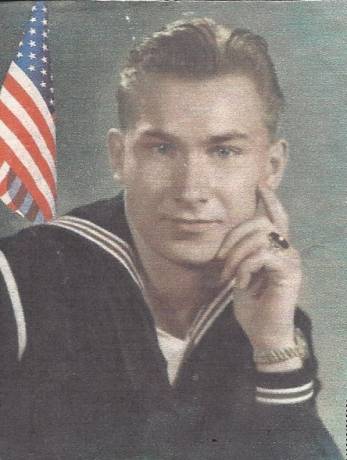 James H. Laskey, Jr, 92, born in Medina NY on October 13, 1927 and who lived in Elba, NY since 1967 with his wife, Virginia, died June 2, 2020.
He was the son of the late James H. Laskey, Sr. and Katherine V. Wisnock Laskey of Medina.
Mr. Laskey was raised on a farm and later worked at Curtiss Wright, an aircraft factory near Buffalo, where he helped build the P-40 (The famous Flying Tiger Plane).  When he turned 18 he joined the Navy and took part in Operation Crossroads in 1946, which involved 2 Atomic Bomb tests in the Marshall Islands, Bikini Atoll. His ship was the U.S.S. AJAX, AR-6, but he also served aboard the U.S.S. Belerphon, ARL-31, a converted LST. While aboard the Belerphon, he received an oral commendation from his captain for spotting a floating mine, which would have meant almost certain disaster for his ship and shipmates. He received the WWII Victory Medal, The Good Conduct Medal and was honorably discharged in 1949.
After discharge, he worked for Hill Brothers Greenhouse Construction of Shelby and later at Meiser Chevrolet Dealership in Oakfield as a Certified Body and Fender Technician for collision repair.
He was a longtime member of the Newstead VFW Post #3180; Batavia American Legion Post #0332; NAAV (National Assoc. of Atomic Veterans) and the National Rifle Association.
Jim enjoyed playing the guitar and mandolin and sang country and bluegrass songs. He loved deer hunting and trout fishing and was also a classic antique car enthusiast and a member of the Lone Wolf Cruisers for many years.
Along with his wife, Mr. Laskey is survived by one son, Jesse Laskey of San Diego, CA; "adopted daughter Marcy Prentice and Son in -law, Bruce Prentice; two grandsons, Bruce III and Jordan.  Also survived by several nieces and nephews.
He was the brother of the late Victor Laskey of Albion.
Funeral services will be held at the convenience of the family with burial in Indian Falls Cemetery. Expressions of sympathy may be shared with the family at: www.mcandrewfuneralhomes.net.
ARRANGEMENTS WERE ENTRUSTED TO THE J. LEONARD McANDREW FUNERAL HOME, LLC, 2 BOGUE AVE., BATAVIA, NY 14020. RONALD KONIECZNY II, DIRECTOR.