June 18, 2020 - 11:29am
Kathryn M. Gringer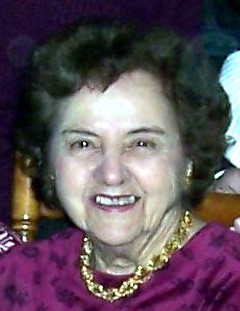 Kathryn M. Gringer, 100, of Batavia passed away peacefully on June 15, 2020 at the Wyoming County Skilled Nursing Facility. She was born on October 21, 1919 in Batavia to the late Charles and Laura (Blandino) SanFratello. In addition to her parents, Kathryn is predeceased by her hunsband; Joseph Gringer; brothers Michael, Jasper, Joseph, Lawrence, John, Victor and Father Sennen OFM SanFratello; sisters Mary Colombo, Josephine Siemens and Grace Curd.
She was a loving mother and grandmother. Mrs. Gringer was an avid reader, enjoyed traveling and was employed by GTE Sylvania for many years.
She is survived by her children; J. Carol Bergstrom of Warsaw and Lorraine (Paul) Gluck of The Villages, FL; sister Laura Bohm of Pittsford; grandchildren Kathryn (Dean) Dembinski, Bruce (Rita) Bergstrom, Gregory (Mary) Gluck, Stephanie (Matthew) Mortellaro and David Gluck; great-grandchildren Ashley Dembinski, Briana (Ben) Parton, Madison Gluck, Natalie Gluck, Paul Gluck, Mateo Mortellaro and Tiago Mortellaro; sisters-in-law Celia Puccio, Virginia Palermo, Carol SanFratello all of Batavia, brothers-in-law John Gringer of Spencerport and Rocco Gringer of Batavia, along with many nieces and nephews.
There will be no prior calling hours. A Mass of Christian Burial will be celebrated for immediate family by Father Emil Swiatek of Depew at Resurrection Parish, 303 East Main Street, Batavia, New York 14020. She will be entombed with her husband in St. Joseph's Mausoleum.
In Lieu of flowers memorials may be made to Richmond Memorial Library, 19 Ross Street, Batavia, NY 14020 or to The Miami Project mailed to Ricky Palermo at 5159 Sunset Terrace, Batavia, NY 14020. To leave a message of condolence please visit www.gilmartinfuneralhome.com or for more information call (585) 343-8260. Arrangements completed by Gilmartin Funeral Home & Cremation Company, Inc., 392-333 West Main Street, Batavia, New York 14020.