June 22, 2020 - 4:22pm
Barbara Jean Walters
posted by
LaVern Falcone
.
LeRoy ~ Barbara Jean Walters, age 60, passed away on the morning of the Summer Solstice, a beautiful Saturday - June 20, 2020.
     She was born November 6, 1959 in Batavia, a daughter of Irene Blowers Walters and the late Royal G. Walters.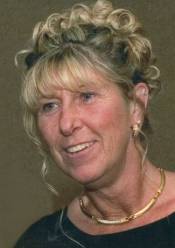 Along with her mother, Irene, she is survived by her daughter, Danielle Royal Titus; her siblings, Robert (Ann) Walters and Ronald (Gale) Walters; nieces and nephews, Brian, William and David Walters and Jennifer Hollebrandt-Walters.
     Barb was a graduate of LeRoy High School Class of 1978.  She was most herself and comfortable in the elements. From working year round on a recycling truck to cutting down trees and mowing lawns on the side. She ran a forklift in a factory and transferred large racks of medical waste from hospitals but couldn't wait to get home and get outside. She had the ability to revive nearly dead plants and save those suffering from drought. She was a highly sensitive person by nature and became 'mother' to just about anyone and anything that crossed her path. She hatched abandoned ducks and bottle fed raccoons. And grew plants bigger than anyone we've known. She even rigged a muffler in a college parking lot covered with fresh snow! 
    She wasn't afraid to "take over" when someone needed help, she wasn't afraid to speak up for the underdog, and she certainly wasn't afraid to put certain people in their place if they so deserved it. 
     She was tough with a kind Heart.  Unapologetic & Honest, Soft but Strong - she's had the ability to be harsh if needed, but still made a point to express her unconditional love and support for Danielle ~ She was an Exceptional mom.
     She was Loved by many in addition to her family! Be it Colleagues, neighbors, strangers, friends, and extended family through her ex‐husband (Daniel J. Titus) originally from Scottsville where they raised their daughter through grade school before cordially parting ways. Barb remained in touch with the Titus family long after she and her daughter moved back to LeRoy as they all held a special place in her heart.
     A special thanks to a long time friend and Petsmart Co‐worker, Karl, who was a shining example of what true friendship means. Karl was a constant source of support and strength to Barb through the hardest part of her journey and long after the shock factor of her motorcycle accident  from 2007 wore off.
     She exceeded all odds of surviving a traumatic brain injury as well as she did. She made the best of her life post TBI and carried on with the love and support of those she held dear. Nursing home life isn't easy for anyone, but she became mother hen to other memory care residents and easily bonded with several staff members over the years and we're all so grateful for that. 
     She had a significant charm with her cunning smile and sparkling laughter. She will forever be missed, loved, and cherished by all who knew her! We Love You Barbara Jean♡
     Family and friends may call on Thursday, June 25 from 1 ~ 3 and 6 ~ 8 at the Falcone Family Funeral & Cremation Service Inc., 8700 Lake Road (Rt. 19), LeRoy. (Funeral home occupancy will be limited to 25% during the course of visitation and face masks will be required.)   Her graveside service will be held on Friday, June 26 at 11:00 A.M. in the Machpelah Cemetery, LeRoy. 
     In lieu of flowers, memorials may be made to the family for distribution to various animal welfare organizations.
     Your memories and condolences may be offered to Barbara's family at www.falconefuneralhome.com.