June 29, 2020 - 10:57am
Jeanie M. Thompson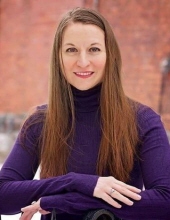 Jeanie M. Thompson, age 38, of Attica, NY passed away on Sunday June 28, 2020 at Suzanne's Comfort Care Home in Perry after a courageous battle with cancer. She was born in Batavia, NY on May 31, 1982 a daughter to Glenn J. and Audrey J. (Mayer) Thompson of Attica. Jeanie is preceded in death by maternal grandparents: Gordon and Gladys (Spring) Mayer, paternal grandparents: Howard "Joseph" and Lillian (Chapel) Thompson and uncle: Wayne Mayer.
Jeanie was a graduate of Attica Central School class of 2000. She worked for Genesee Community College in Batavia, she was a former reporter for the Country Courier and worked summers at Darien Lake. Jeanie enjoyed reading, traveling, fulfilling a lifelong dream to go to Paris, and writing. She was a member of the Warsaw's Write Connection a writing group based out of Warsaw.
Along with her parents she is survived by her boyfriend and soul mate: Mark Nenni of Brockport, sister: Laura (Will) Smith of Eustis, Fl., brother: Gary (Ashley Rowsam) Thompson of Carthage, NY, nephew: Hayden Smith, Mark's two sons: Trey and Evan Nenni, along with many aunts, uncles, cousins and friends,
Services will be held at the convenience of the family. Jeanie's ashes will be scattered in her mother's flower gardens.
(In lieu of flowers) Memorial contributions may be made to Suzanne's Comfort Care Home 167 N. Main St. Perry, NY 14530. For more information please call (585) 237-2626 or to leave a message of condolence visit www.eatonwatsonfuneralhome.com. Arrangements completed by Eaton-Watson Funeral Home, LLC. 98 North Main Street Perry, New York 14530.