July 8, 2020 - 11:10am
Thomas F. Randall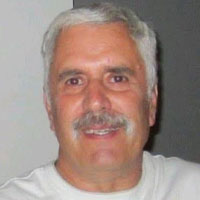 Thomas F. Randall, 70, ​Churchville, NY / Nokomis, FL – passed away on June 22, 2020 at Unity Hospital with Carol, his wife of 49 years, at his side. He battled Parkinsons Disease for 20 years.  Tom was the son of the late Frederick and Charlotte Randall of Churchville. 
 
Tom graduated from Churchville-Chili High School and then entered the National Guard.  He spent his entire career as a Parts Manager at area Ford dealerships: Morleys, Vellas, Jack Roach, Gabrielle and Mike Ognibene.  His passion was classic cars and he owned several over the years.  His favorite was a 1956 Ford Thunderbird which he restored and owned for over 50 years.  Tom's favorite hobby was attending car shows with his T-Bird.  For twenty years he helped organize the car show for Bergen Park Days. While wintering in Nokomis, FL he also helped with their car show. 
Tom and Carol wintered at Royal Coachman in Nokomis, FL for the last 10 years.  While in Florida, Tom enjoyed biking, shuffleboard, shooting pool, and riding his golf cart.
In addition to his wife, Tom is survived by his children Stacey Larimer (Jonathan) of Atlanta, Georgia, Alexyn Wilford (Adam) and Ethan Randall both of Churchville; his newborn granddaughter Rhaya Marie Wilford; his brother Robert Randall (Ann) of Churchville; brothers-in-law Richard Alexander (Yvonne) of Hamlin and John Alexander of Batavia; sisters-in-law Marcia Partlow (John) of Latham, NY and Terri Madison of Holley as well as several nieces and nephews. Tom was also survived by his beloved grand-pups Wilson and Zoey.
There will be no visitation or services.  There was a small gathering of family and close friends to remember Tom.  In lieu of flowers, contributions in Tom's memory may be made to Chili Henrietta Scottsville Ambulance aka CHS Mobile Integrated Healthcare, 280 Calkins Road, Rochester, NY 14623. They were always incredibly kind and compassionate to the Randall family.
Arrangements were completed by Walker Brothers Funeral Home, Spencerport.