July 13, 2020 - 9:38am
GRACE ORCUTT SPIERS
Grace Orcutt Spiers passed away peacefully in her sleep on July 10, 2020 in Batavia, New York.
Grace was born on May 5, 1931 in Utica, to Raymond and Ellen Powell Orcutt.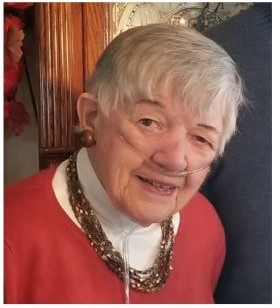 After graduating from SUNY Plattsburgh in 1954, Grace moved to Batavia to teach at the NY State School for the Blind. She began attending Batavia United Methodist Church and the McNabb Sunday School class where she met her future husband, Graham Spiers. They were married on July 21, 1956.
Grace is survived by her husband of almost 64 years, Graham A. Spiers, her 4 children: Margaret E. (Peggy) Spiers, Robert B. (Debra Hyde) Spiers, Steven A. (Ann Trankina) Spiers and Sarah J. (Tony) Reuter and her 4 grandchildren: Samantha J. (Sammy Jo) Spiers (Keith) Stevenson, Daniel R. (Danno) Spiers, Christopher R. Spiers, and Meghan M. Reuter.
Grace was well loved by friends in Batavia, Gainesville, FL and international students from Brazil and Korea.
There are no prior visiting hours. Private services will be held at the convenience of the family. She will be laid to rest in Grand View Cemetery, Batavia. Donations may be made to the UMW at the Batavia United Methodist Church, 8221 Lewiston Road, Batavia, New York 14020 or All Babies Cherished, 445 Ellicott Avenue, Batavia, New York 14020. To leave a condolence, share a story or light a candle in Grace's name, please visit www.bataviafuneralhomes.com.
Arrangements have been entrusted to the H.E. Turner & Co. Funeral Home, Batavia.