July 27, 2020 - 9:04pm
Leslie A. Irwin
posted by
Ronald Konieczny
.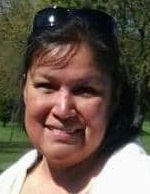 Leslie A. Irwin, 51 of Batavia, passed away peacefully on Saturday (July 25, 2020) at Premier Genesee Center for Nursing & Rehabilitation.
She was born August 27, 1968 in Batavia, NY, a daughter of the late Ronald Skye and Bernice Masker.
Leslie was employed by Save A Lot in Batavia. She was known to be the life of a party and enjoyed being around people. She has touched the lives of so many with her love and laughter. She will be forever missed.
Survivors include her children, Sarah Irwin of Mt. Morris, Samantha Irwin of Geneseo, Katrina D'Anna of Buffalo and Brandon D'Anna of Buffalo. Companion, David Eaton of Batavia. Also survived by a sister, brother, 7 grandchildren, nieces and nephews.
Services will be private at the convenience of the family. Expressions of sympathy may be shared with the family at: www.mcandrewfuneralhomes.net.
ARRANGEMENTS WERE ENTRUSTED TO THE J. LEONARD McANDREW FUNERAL HOME, LLC, 2 BOGUE AVE., BATAVIA, NY 14020. RONALD KONIECZNY II, DIRECTOR.