July 28, 2020 - 1:45pm
MR. LEO L. SNYDER
Leo L. Snyder, 85, of Alabama, passed away on Monday, July 27, 2020 at Buffalo General Hospital after a brief hospitalization.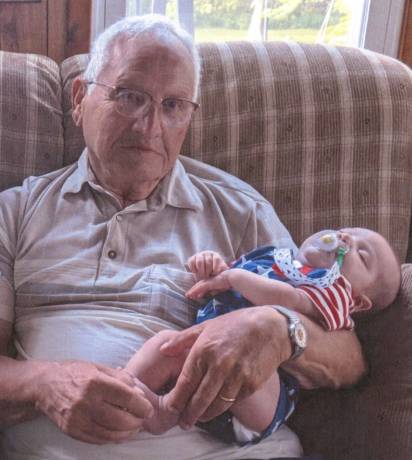 Leo was born on April 23, 1935 in Alabama, NY, a son of the late Milford and Elma (Ostrander) Snyder. He married the love of his life Janice E. Newton June 29, 1957. He served in the U.S. Army Reserves from 1957 - 1963. He joined the Alabama Fire Department March 12, 1955. He retired from General Motors after 39 years of service. He was a member of the Alabama Basom United Methodist Church and the American Legion. Leo enjoyed keeping busy with home improvement projects, playing euchre with close friends, and was happiest just spending time with his wife and family.
He is predeceased by his sisters Beatrice (Jim) Seibert, Aletha (Alfred) Kenward, and Irene Snyder; and his brothers Lyle (Helen) Snyder, Lester (Joan) Snyder, and Leland "Jack" (Arlene) Snyder.
Surviving are his wife of 63 years; Janice (Newton) Snyder; his children: Charlene Snyder and Brian (Annette) Snyder; his granddaughters: Melanie Snyder and Leah (Christopher) Snyder; and his great-grandson: Leo O. Snyder; as well as several nieces and nephews.
Family and friends may call Thursday, July 30, 2020 from 5:30 p.m. to 7:00 p.m. at Indian Falls Methodist Church 7908 Alleghany Rd, Corfu, NY 14036 . Funeral services immediately follow visitation. Please note if you will be staying for Leo's services, please bring a chair as all services will be held in the pavilion of the church. Private burial will be held at the convenience of the family at Alabama Cemetery.
In lieu of flowers, memorials may be made to the Alabama Basom United Methodist Church 1392 Church Street, Basom New York 14013 or the Alabama Fire Department, P.O. Box 798 Basom, New York 14013. To leave a condolence, share a story or light a candle in Leo's name, please visit www.burdettandsanford.com.
Arrangements have been entrusted to the Burdett & Sanford Funeral Home, Oakfield.