July 31, 2020 - 1:57pm
​Paul Voltura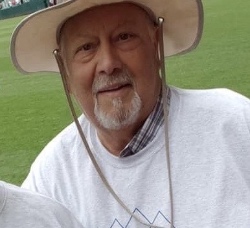 Paul Voltura, 72, passed away on Sunday, July 26, 2020 in Redding, California
He was born on November 6, 1947 in Batavia, New York, to Angelo and Angeline (Gringer) Voltura.
Paul had many passions including fishing, bowling, welding and cooking -- all of which he used to make a living. Paulie was a friend to everyone he met and could schmooze with the best of them. He was an active community member volunteering his cooking, welding or fly fishing services to many organizations in his community and beyond. He loved his family and friends deeply and he had a lot of them!
He is survived by his son Greg (Nickey) Voltura, of Indian Falls, New York, daughter Debbie (Tom) Shea, of Batavia, New York, and daughter Felisa (Adam) Westlake, of Fall River Mills, California. As well as three grandsons, Angelo Voltura, Eli Westlake and Davin Westlake and three granddaughters, Sara Voltura, Melissa Voltura and Addison Shea.
He has more Aunts, Uncles, Cousins, Nieces & Nephews than can be listed in one newspaper!
In lieu of flower, the family asks that you share your favorite story of Paulie using this link and donations may be made out to The Miami Project (on behalf of the Ricky Palermo Spinal Injury Tournament) and mailed to:  Debbie Shea, 9395 Shepard Road, Batavia, NY 14020.
A memorial service will be held in the fall (possibly around his birthday) in California pending social distancing rules.