August 12, 2020 - 4:13pm
Tammy Joy Davis
posted by
LaVern Falcone
.
Tammy Joy Davis, of LeRoy, passed away suddenly at home on Monday, August 10th.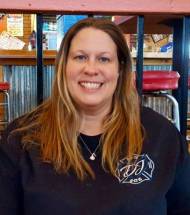 Tammy was born on April 24, 1978 in Batavia, N.Y. to Robert and Arloa Donnelly.  She was a 1996 graduate of Pavilion High School. She worked as a secretary for several years.
     Tammy was the loving wife of Jim Davis. They shared 7 special years together. They enjoyed their trips to the casino, motorcycling, spending time outdoors camping and trapshooting, and playing with their dog, Harley.
     Tammy loved life, and will be remembered for her joyful spirit, kind heart, and beautiful smile. She loved her family and friends unconditionally, and was always so devoted to taking care of others.
     Tammy is also survived by her brothers Gary (Deb) Donnelly and Mark Donnelly, sister-in-law Kathleen (Mark) Hungerford, nieces Amber (Brett) Sheffer, Olivia Hungerford, nephew Ron Johnson, great-nephew Liam Sheffer, stepson Cory (Angela Stella) Davis, stepdaughter Emily (Gary) Koehler, and many aunts, uncles, cousins, and dear friends.
     Visitation for family and friends will take place on Sunday, August 16th at the Falcone Family Funeral & Cremation Service, 8700 Lake St. Rd. (Rt. 19) in LeRoy, N.Y. from 4 ~ 7 PM. (Funeral home occupancy will be limited to 33% capacity during the course of visitation and face masks will be required.)  A private burial service will be held on August 17th.
     In lieu of flowers, contributions in memory of Tammy can be made to her family.
     Your memories and condolences may be shared with Tammy's family at www.falconefuneralhome.com.