August 27, 2020 - 9:47am
Sarah L. Matthews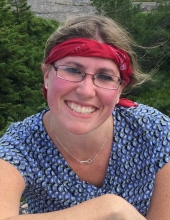 Sarah L. Matthews, age 47, of Silver Springs passed away at her home on Tuesday August 25, 2020.  She was born in Waukesha, WI on July 24, 1973 a daughter to David and Nancy (Reber) Patrick of Perry.
Sarah was a graduate of Perry Central School, class of 1991 and received her Bachelor's degree in Business from Roberts Wesleyan College. She was an accountant for many years working for several local businesses, She currently was a business manager at SUNY Geneseo. Sarah was a member of Hope Chapel in Perry. She enjoyed being outside whether camping, boating or hiking with her family. She enjoyed walking and playing with her dogs, doing taxes for people or was just that person that was always willing to help someone out. She was also a dedicated "Swim Mom" to her sons.
She is survived by her husband: Charles S. "Chip" Matthews II. whom she married on July 27, 1991 , 2 sons: Charles "Sam" Matthews III and Porter Matthews both at home, her parents: David (Nancy) Patrick of Perry, sister: Joy (Kurt) Braselton of Wheatland, brother: David (Margaret) Patrick of Westfield, MA, parents-in-law: David (Janet) Phillips of Silver Springs, grandparents: Cal (Elizabeth) Phillips of Silver Springs, sister-in-law: Sarah (William) Marsh of Pike, 4 brother-in-laws: David (Judy) Phillips II of Silver Springs, Tedd (Julie) Phillips of Silver Springs, Andrew (Joy) Phillips of Syracuse, Vern (Laurie) Phillips of Ocala, FL, along with several Aunts, Uncles, Cousins, Nieces, Nephews and friends.
Family and friends may call from 5-8pm on Friday September 4, 2020 at Eaton-Watson Funeral Home, LLC. Perry, NY 14530. A Celebration of Sarah's Life will be announced at a later date.
Sarah will be laid to rest in Grace Cemetery in Castile.
In lieu of flowers, food or any monetary donation, Sarah would have preferred that you just HUG a LOVED ONE. To leave a message of condolence please visit www.eatonwatsonfuneralhome.com or for more information call (585) 237-2626. Arrangements completed by Eaton-Watson Funeral Home, LLC, 98 North Main Street, Perry, New York 14530.