August 27, 2020 - 1:42pm
David J. Zanghi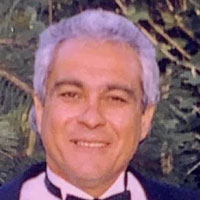 David J. Zanghi (Davey Joe) went to the Lord on March 29, 2020, and was born on January 27th 1953 in Batavia, New York to Mr. Salvatore J. and Domenica (Dorothy Tenebruso) Zanghi. David is survived by his sisters, Rosanne Wray (Robert), Michelle Gaylord (Paul), Mary Ellen Wilber (Jeffrey) and brother Philip S. Zanghi. He is survived by his sons, David J. Zanghi Jr and Alex S. Harrell (Tamara) and grandchildren Lexi, Henry, Lindsey and Lily. David is also survived by his long time companion and sweetheart, Patricia Meyers. 

David was a graduate of Batavia High School and a Veteran of the U.S. Air Force. During his business career, he attended many Business Academia training for Sales & Marketing related to office equipment and technology. His career in Texas spanned 30 colorful years. His buddies will be telling stories for years from the Palaterie Brothers to Steve Cohen (Cohie), Rittie, Dr. Michael and Sherry Urban (Marve) Dr. Mark Morgan, and Joe and Faith Kuszay. 
Upon his return to the Batavia area, he was known as the "Mayor of the Southside," and he would sit on his porch and speak to all of his neighbors, who quickly became friends. David is also survived by his beloved 54 nieces and nephews. David had many close friends including his best friends, Vinny and Sue Pelegrino and their children. 

David was a great golfer and avid card player. In his younger years, he enjoyed traveling. David was a member of Ascension Parish in Batavia, New York. 
Due to Covid-19 restrictions, visitation will be limited to 33% capacity on 9/1/20 from 4-8pm. Funeral Services will be held on September 2nd at 11am, and both events will be held at Michael Tomaszewski's Funeral and Cremation Chapel.