August 30, 2020 - 9:34am
Mrs. Doris E. Tootell
Batavia - Mrs. Doris E. Tootell, 99, of Batavia, passed away Thursday, August 27, 2020, at LeRoy Village Green Nursing Facility.
Mrs. Tootell was born June 29, 1921, in Detroit, Michigan, daughter of the late David and Alice Stanton Grice.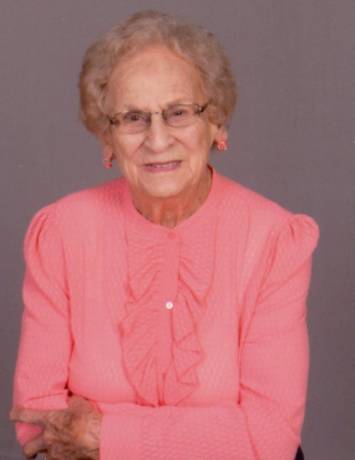 A longtime and devoted member of the First United Methodist Church of Batavia, Doris was active in her church through various committees and participated in many bible studies. She was a member of the Ingraham Class of the church and was a member of the Order of The Eastern Star since 1955. The matriarch of her family, Doris was active in all of her children's lives growing up participating in the Cub Scouts, Girl Scouts and sports they were involved in. She enjoyed trips to Canada, camping at Southwoods in South Byron, going to Horseshoe Lake and being on the family boat. Her family will remember her for making the best sweet pickles and being an outstanding baker whose cookies and apple pies were enjoyed by many. 
Her husband, Harold K. Tootell, passed away on October 16, 2009.
She is survived by her son: Douglas (Betsy) Tootell of Delaware; three daughters: Susan (Michael) Ferris of Silver Springs, Deborah (Robert) Anderson of Rochester and Joan (Bill) Stevens of Batavia; fourteen grandchildren, twenty-four great-grandchildren, three great-great-grandchildren; and several nieces and nephews.
She is predeceased by her siblings; David W. Grice, Harold Grice, Ruth Wagner and Audrey Aradine.

Friends may call from 11 a.m.  - 1 p.m. on Wednesday at the First United Methodist Church of Batavia, 8221 Lewiston Road, Batavia. Private services will be held at the convenience of the family. She will be laid to rest in Grand View Cemetery. In lieu of flowers, contributions in Doris's memory may be made to the First United Methodist Church of Batavia, 8221 Lewiston Road, Batavia, New York 14020. To leave a condolence, share a story or light a candle in her name, please visit www.bataviafuneralhomes.com.
Due to the ongoing COVID-19 Pandemic, the church will be restricted to 33% occupancy.
Face coverings and social distancing will be required.  We appreciate your understanding and cooperation.
Arrangements were entrusted to the H.E. Turner & Co. Funeral Home, Batavia.