August 31, 2020 - 9:25am
James E. Lytle
posted by
LaVern Falcone
.
James E. Lytle, 80, of LeRoy, NY passed away peacefully, surrounded by loved ones at Strong Memorial Hospital, on August 28, 2020.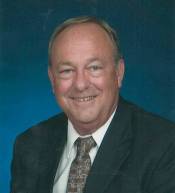 Jim was born on October 26, 1939 in Madison, Wisconsin to Harold and Edna Lytle. After retiring from Lapp Insulator, he opened J & L Precision, a successful machine shop, in LeRoy, that he ran with his wife.  You could always find Jim on the golf course, playing cards with family and friends, or relaxing at home with the love of his life, Laurita, and his beloved dog, Tanner. He was an amazing man and will be missed by many. 
     Jim was preceded in death by his parents and his brother, Bobby. He is survived by his wife of 25 years, Laurita, his siblings Linda (Vinny) Lyons and Charlie (Paul) Lytle, his children, Leslie Laurie-Nicoll, Marcy (Louis) Fishgold, Holly Murphy, Jamie Amburgey, Jimmy (Melissa) Lytle, stepchildren Heather (Rick) Bryant, Heidi Bogue, 13 grandchildren, six great-grandchildren, several nieces and nephews, along with many dear friends.
     Visitation will be held at the Falcone Family Funeral & Cremation Service Inc., 8700 Lake Road, LeRoy on Wednesday, September 2, 2020 from 4-7 PM.
     A Celebration of Life Service will be held at Grace Baptist Church, 238 Vine Street, Batavia on Thursday, September 3, 2020 at 11:30 AM.
     In lieu of flowers, the family asks you to please donate in Jim's name to St Jude Children's Hospital.  donate-to-st-jude-today.html.
     Your memories and condolences may be shared with Jim's family at www.falconefuneralhome.com.