August 31, 2020 - 1:00pm
Margaret Irene Zajaczkowski
posted by
Ronald Konieczny
.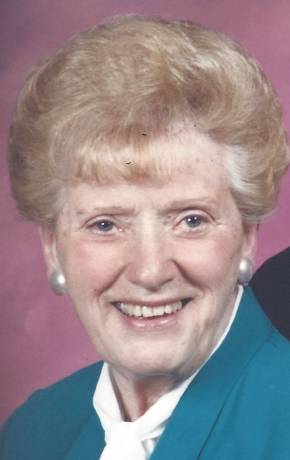 Margaret Irene Zajaczkowski, 94 of Batavia, passed away peacefully on Sunday (August 30, 2020) at Gateway Home in Attica, NY.
She was born January 9, 1926 in Batavia, NY, a daughter of the late William and Ethel Smith Gahagan.
Margaret was employed as a sales clerk for Big N and Kmart prior to her retirement. She enjoyed bowling, walking, crossword puzzles, watching tv and was a longtime parishioner of Resurrection Parish. Most of all she enjoyed her family and will be dearly missed by all who knew her loving heart.
She married Matthew Zajaczkowski on November 27, 1948 and they shared a wonderful life together until his passing in 2007.
Survivors include her sons, Stephen (Jean) Zajaczkowski of Batavia and Joseph (Jean) Zajaczkowski of Alexander. Sister, Marlene Wicks of Batavia. Also survived by 7 grandchildren, 4 great-grandchildren, several nieces and nephews.
She was the grandmother of the late Christine and James Zajaczkowski and sister of the late Elizabeth Darby, Elmer Gahagan, Eleanor Zajaczkowski, Betty Sojda, William "Pat" Gahagan and Clarence "Fetch" Gahagan.
Family and friends are cordially invited to share thoughts, condolences and fond memories on Thursday (September 3rd) from 3-6pm at the J. LEONARD McANDREW FUNERAL HOME, LLC, 2 Bogue Ave., Batavia. Her Mass of Christian Burial will be celebrated Friday, 11:00am at Resurrection Parish, 303 E. Main St., Batavia. Entombment will be in St. Joseph Cemetery.
In lieu of flowers, memorial contributions may be made to Gateway Home, 91 Main St., Attica, NY 14011. Expressions of sympathy may be shared at: www.mcandrewfuneralhomes.net.
ARRANGEMENTS WERE ENTRUSTED TO THE J. LEONARD McANDREW FUNERAL HOME, LLC, 2 BOGUE AVE., BATAVIA, NY14020. RONALD KONIECZNY II, DIRECTOR.