September 2, 2020 - 1:19pm
Miguel Angel DeJesus
posted by
LaVern Falcone
.
Delevan, N.Y. ~ Miguel Angel DeJesus " Mike", "Pops", "Papi", age 73, passed away peacefully on Saturday, August 29, 2020 at Mercy Hospital of Buffalo.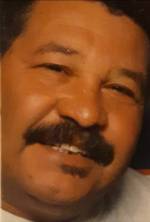 He was born July 2nd, 1947, in Salinas, Puerto Rico, to Pablo DeJesus and Rosa Rivera. He was married to Betty R. DeJesus, his wife of 32 years.
     Miguel loved to enjoy the finer things in life like spending time outside with his many dogs, fishing and watching TV with his wife.
     He is survived by his wife, Betty and his children, Marisol DeJesus, Miguel DeJesus Jr. of FL, Diana DeJesus of NJ, Mickey, Gregory and William DeJesus of LeRoy; his grandchildren, Dominic, Aliyah, Harlan DeJesus, as well as many others.
     Any other family and friends, whose lives Miguel touched are invited to call on Saturday, Sept. 5 from 10:00 - 11:00 AM at the Falcone Family Funeral & Cremation Service, 8700 Lake Road, LeRoy, NY. (Funeral home occupancy will be limited to 33% capacity during the course of visitation and face masks will be required.)  His burial will immediately follow visitation at the Stafford Rural Cemetery on Transit Road, Stafford, NY.
     Your memories and condolences may be shared with Miguel's family at www.falconefuneralhome.com.