September 4, 2020 - 3:28pm
James E. Cackett
posted by
Ronald Konieczny
.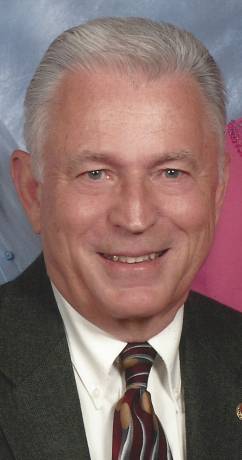 James E. Cackett, 78 of Batavia, passed away unexpectedly on Wednesday (September 2, 2020) at his residence.
He was born April 19, 1942 in Utica, NY, a son of the late Clarence and Donna Esmay Cackett.
Jim was born and raised in Utica, NY. He graduated from Utica Free Academy in 1960.  He entered the United States Marine Corps immediately following high school  graduation and served honorably for eight years. He proudly served in Vietnam and was awarded a Purple Heart, a Combat Action ribbon, and a Presidential Unit Citation which is awarded to units in the armed forces of the United States for extraordinary heroism in action. Upon completing his tour of duty, he was then stationed in Batavia as the Marine Recruiter and that is when he met the love of his life, Brenda. They married on April 27, 1968. He began his college studies at Genesee Community College and transferred to Syracuse University to complete his Bachelor's degree in 1971. He was proud to call himself a Syracuse alumni.
He entered into the New York State Police, was assigned to Troop A – Batavia, and rose through the ranks to become a Sergeant as well as serving as Station Commander. He moved into the Bureau of Criminal Investigation within the Special Investigators Unit. He retired after 26 years of dedicated service and entered into the private sector as a Fraud Investigator for Liberty Mutual Insurance Company. He retired, again, after six years from the Buffalo office.
Jim and Brenda enjoyed a wonderful retirement spending time with family and friends as well as traveling throughout the National Parks, Canadian Rockies, Alaska, Mexico, and Europe. He especially enjoyed their many visits to Puerto Vallarta, where he was able to utilize his love of the Spanish language.
He was a past Commander of the American Legion, life member of the VFW, Marine Corp League member, a volunteer driver for the Veterans Administration Hospital to transport local veterans to their medical appointments, and past member of the Lions Club as well as other organizations.
Jim was a giving individual and would always lend a hand whenever it was needed. He loved going out to dinner with friends (the finer the establishment, the better). The house was always open to friends and family for good food, great conversations, and lots of laughter. Some of you got to enjoy one of his famous Muddled Old Fashion's and if you were one of the luckier ones, he might have offered you one of his cherished bottles of Utica Club.
Jim was an honorable man with strong family values, to serve and protect those that he held close. A man with true integrity and an unbelievably kind heart. His greatest accomplishment in his life was love; love for his family and love for his precious beautiful grandchildren. He will be missed for eternity.
Survivors include his loving wife, Brenda Fanara Cackett of Batavia. Daughters, Jackie (Michael) Battaglia of Batavia and Rebecca Cackett of Virginia Beach, VA. Grandchildren, Mason, Natalie and Lily Battaglia. Brothers, Robert (Judy) Cackett of Guayaquil, Ecuador, Thomas Cackett of Washington, D.C. and Philip (Barbara) Cackett of Ocala, FL. Brother in-law, Ross (Shirley) Fanara of Batavia. Also survived by cousins, nieces and nephews.
Family and friends are cordially invited to share thoughts, condolences and fond memories on Tuesday (Sept. 8th) from 3-7 pm at the J. LEONARD McANDREW FUNERAL HOME, LLC, 2 Bogue Ave., Batavia, NY. A private Mass of Christian Burial will be celebrated at Resurrection Parish. Family and friends are invited to Mr. Cackett's Committal Service and Military Honors on Wednesday (Sept. 9th) at 12pm in St. Joseph Cemetery, Ellicott St., Batavia.
Flowers are gratefully declined. Memorial contributions may be made to Crossroads House, 11 Liberty Street, Batavia, NY 14020 or to a charity of the donors choice. Expressions of sympathy may be shared with the family at: www.mcandrewfuneralhomes.net.
ARRANGEMENTS WERE ENTRUSTED TO THE J. LEONARD McANDREW FUNERAL HOME, LLC, 2 BOGUE AVE., BATAVIA, NY 14020. RONALD KONIECZNY II, DIRECTOR.